THE D'OYLY CARTE OPERA COMPANY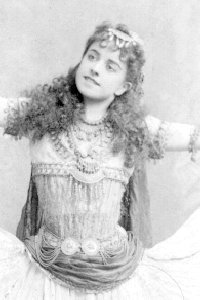 Louise Rowe as Banyan in The Nautch Girl
Louise Rowe (1889-93)
[Born Redruth, Cornwall]
Louise Rowe joined D'Oyly Carte Opera Company "E" in 1889, making her debut as Phoebe Meryll in The Yeomen of the Guard in May of that year. She appeared as Phoebe and as Pitti-Sing in The Mikado on occasion between May and September, before transferring to Carte's Company "B" as Phoebe from October to December 1889. She then returned to Company "E," where on two further occasions (March-July and October-November 1890), she appeared again as Pitti-Sing and Phoebe.
She was called to the Savoy where she created the part of Banyan in The Nautch Girl in June 1891. From August to November 1891 she filled in for Jessie Bond as Chinna Loofa, resuming as Banyan when Miss Bond returned from her provincial tour of "musical duologues" with Rutland Barrington.
After The Nautch Girl, Miss Rowe appeared as Cynthia in the revised production of The Vicar of Bray at the Savoy from January until March 1892, when she went on tour. With Carte's Company "D" from March to December 1892 she appeared as Nelly Bly in The Vicar of Bray. After a two-month break, she briefly resumed touring with Company "D" in March 1893 as Nelly Bly and as Dorcas in Haddon Hall. March 1893 appears to have marked the end of her D'Oyly Carte career.
---
R Index | "Who Was Who" Homepage
---