THE D'OYLY CARTE OPERA COMPANY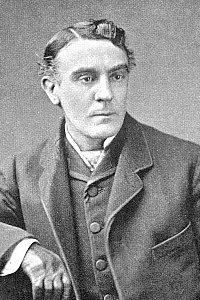 E. W. Royce
E. W. Royce (1876)
[Born Eversholt, Bedfordshire 11 Aug 1841, died London 24 Jan 1926]
Edward William Royce (real surname Reddall) was an actor and stage manager whose performing career extended from 1860, when he made his debut at Covent Garden as a dancer in Un Ballo in Maschera, until 1908 when he appeared at the Queen's Theatre as Old Jacques in The Belle of Brittany. Among his many early parts was the title role in W. S. Gilbert's farcical comedy Tom Cobb (St. James's Theatre, 1875).
His only appearance under D'Oyly Carte management came in 1876, when from January until March of that year he appeared as Ulric in The Duke's Daughter and Job Wort in A Blighted Being as the Royalty, Globe, and Charing Cross Theatres. Carte was joint manager with George Dolby for Selina Dolaro's Company.
Royce left the stage due to health reasons in 1882, but by the spring of 1886 he was back on tour with Miss [May] Fortescue's London Company in W. S. Gilbert's Gretchen, among other works. Later that year, he traveled to Australia where he appeared in comedy, burlesque, drama, and pantomime for a number of years. Royce returned to England in 1892, working there as an actor, director and choreographer. He was the father of Edward Royce, Jr., who choreographed and appeared in the original production of A Princess of Kensington.
---
R Index | "Who Was Who" Homepage
---