THE D'OYLY CARTE OPERA COMPANY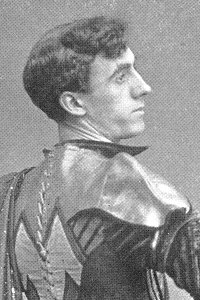 Edward Royce, Jr. in A Princess of Kensington
Edward Royce, Jr. (1903)
[Born Bath 14 Dec 1870, died London 15 Jun 1964]
Edward Royce, Jr. (real name James William Reddall) was originally trained as a scenic artist, then as a dancer, before embarking on a successful career as a choreographer and director in Britain, America and Australia.
His earliest West End credits came at the Savoy, where he stage managed and arranged the dances and choral effects for Merrie England (April-July 1902 and November 1902-January 1903) and A Princess of Kensington (January-May 1903). Royce also appeared on stage in the latter work, performing the duet dance in the second act with Winifred Hart Dyke.
After managing several notable productions at the Aldwych, Hicks, Lyric, Gaiety, Adelphi, Vaudeville, Palace, and Daly's Theatres, he traveled to New York in 1916 where he directed and choreographed numerous Broadway musicals including two iterations of Ziegfield Follies and the original Broadway production of No, No, Nanette. He went to Australia in 1927, returned to Broadway the next year, and after some less successful productions went to the West Coast where he mounted shows in San Francisco and Los Angeles, and choreographed a couple of 1929 films (Married in Hollywood and Words and Music). He returned to London where he directed a revival of A Waltz Dream (Winter Garden, 1934), and co-authored a romantic musical, Fritzi (Adelphi, 1935). His last production on the London Stage was a two-part "Cavalcade of the British Army," Salute the Soldier (Stoll Theatre, 1944).
He was the son of actor and stage manager E. W. Royce, who had appeared briefly under D'Oyly Carte management in 1876.
---
R Index | "Who Was Who" Homepage
---