THE D'OYLY CARTE OPERA COMPANY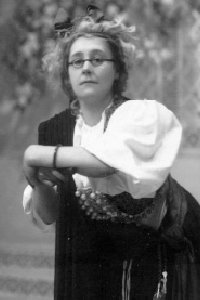 Amy Royston as Inez in The Gondoliers
Amy Royston (1890, 1896-1904, 1908-13, 1916-19)
[Died 1936]
Contralto Amy Royston was a chorister, understudy and small part player with the D'Oyly Carte organization for much of the 1890s, 1900s and 1910s. She was in the chorus for at least a portion of Carte's New York production of The Gondoliers (1890) and the D'Oyly Carte tour of South Africa (December 1896-June 1897).
Upon her return to Britain, she began to appear as Inez in The Gondoliers, first with D'Oyly Carte Opera Company "C" (July 1897), then with Carte's Company "C" (August-December 1897), and sporadically with Company "C" thereafter:in January, March, October, and December 1899, in September 1900, and in December 1901. In 1902 she appeared with some regularity as Vittoria in The Gondoliers (a part she shared with Dolly Webb and Grace Wollaston), and also filled in on occasion (in November) as Kate in The Pirates of Penzance. From April 1903 to January 1904 her roles were Kate in Pirates and Inez, and in January 1904 she swapped Inez for Vittoria again. She appeared as a substitute Katisha in The Mikado in February 1904, then appears to have left the Company in June of that year.
Miss Royston returned to the D'Oyly Carte Opera Company for the Second London Repertory Season at the Savoy in April 1908, filling in for Louie Rene as the Queen of the Fairies in Iolanthe once in November, and appearing regularly as Mrs. Jones in the Fenn & Farady curtain raiser A Welsh Sunset (December 1908-February 1909), and Inez in The Gondoliers (January-March 1909).
After the London season she joined the D'Oyly Carte Principal Repertory Opera Company on tour. She appeared as Inez from September to December 1909, and again from January 1911 to June 1913, filling in for Miss Rene as Ruth in The Pirates of Penzance on occasion in 1911.
After another break in service, Amy Royston returned to the Repertory Company in March 1916, appearing in the chorus and as Inez until June 1919 when she left the Company for the last time.
She was married to long-time D'Oyly Carte baritone Fred G. Edgar.
---
R Index | "Who Was Who" Homepage
---