THE D'OYLY CARTE OPERA COMPANY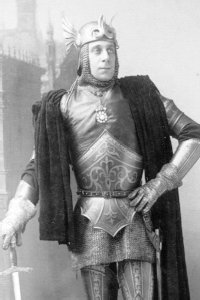 Joe Ruff as Lord of St. Sauveur in The Beauty Stone
Joe Ruff (1894-1923)
[Born Glasgow c.1870, died St. Martins, Shropshire 9 Jul 1929]
Joe Ruff's career with the D'Oyly Carte organization can be traced to March-June 1894 when he toured as a chorister New York and Boston with Carte's American Utopia Limited Company. In October and November of that year, he was called upon to serve, on an emergency basis, as musical director for D'Oyly Carte Opera Company "A" on a British provincial tour. He may well have been a chorister and rehearsal pianist as well but records of his regular duties at the time are unavailable.
We do know he was in the D'Oyly Carte chorus at the Savoy from July 1896 (for the second revival of The Mikado) through 1898, when he created the small part of Lord of St. Sauveur in The Beauty Stone (May-July 1898). He also appeared as an extra in benefit matinees of Trial by Jury at the Lyceum (December 3, 1896) and Drury Lane (March 17, 1898).
He later transferred to D'Oyly Carte Opera Company "C," filling in as Gurun in Princess Ida in May 1900, and later touring as Guron and as First or Second Yeoman in The Yeomen of the Guard from September 1901 to March 1902. From April 1902 to May 1903 Ruff participated in the D'Oyly Carte tour of South Africa as assistant musical director, as well as singer, appearing as First Yeoman and the Lieutenant of the Tower in The Yeomen of the Guard, Giorgio in The Gondoliers, and the Royal Executioner in The Rose of Persia.
After returning to England he resumed touring with the D'Oyly Carte Principal Repertory Opera Company, taking Scynthius (January 1904-November 1905, and April 1908) and Guron (December 1905-April 1908) in Princess Ida as his only named parts.
Ruff gave up his part in Princess Ida in 1908, but remained with the Repertory Company until January 1923. Between July 1913 and January 1923, his roles were Guron (1913-14, 1916-23), Arac (on occasion, 1913-14), and King Hildebrand (on occasion, 1914-15) in Princess Ida, Second Yeoman in The Yeomen of the Guard (1914-20), and the Foreman of the Jury in Trial by Jury (on occasion, February 1920). When he left the D'Oyly Carte stage in January 1923, Ruff became the Company's librarian.
His only subsequent appearance on the London Stage was as a juryman in Trial by Jury in the Courtice Pounds Tribute Fund Matinee (His Majesty's, December 12, 1927).
---
R Index | "Who Was Who" Homepage
---