THE D'OYLY CARTE OPERA COMPANY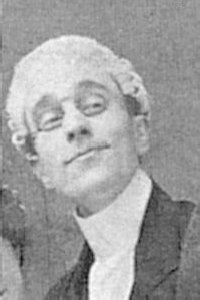 Leonard Russell as Counsel for the Plaintiff in Trial by Jury
Leonard Russell (1898-99)
Leonard Russell had a lengthy career on the London and provincial Stage that extended at least from February 1891, when he made his London debut as Little John at Daly's Theatre in Smith & de Koven's Maid Marian, until March 1935 when he took his last London role, that of the Grand Vizier in a revival of Hood & Sullivan's The Rose of Persia at the Princes Theatre.
His first London appearance in Gilbert & Sullivan came as a part of the crowd in court in the Nellie Farren Testimonial benefit matinee of Trial by Jury (Drury Lane, March 17, 1898). Less than a week later, he made his D'Oyly Carte debut as Antonio, and Simon, in the March 22 revival of The Gondoliers, along with the Greenbank and Cellier companion piece Old Sarah, at the Savoy. Russell next created the role of a Seneschal in Pinero, Carr, and Sullivan's "romantic musical drama" The Beauty Stone (May-July 1898); and in July 1898 he took up Antonio again when The Gondoliers was presented once more. When The Gondoliers gave way to a new revival of The Sorcerer with Trial by Jury in September, Russell was the Notary in the longer piece and Foreman of the Jury in the curtain raiser. He also filled in briefly for Jones Hewson as Counsel for the Plaintiff in Trial in December, towards the end of the run.
For the original production of The Lucky Star (January-May 1899), Leonard Russell was Cancan. He then appeared as Counsel in Trial by Jury in the June-November 1899 revival with H.M.S. Pinafore, also filling in for Henry A. Lytton as Captain Corcoran in Pinafore in September. Russell then left the D'Oyly Carte and the Savoy in November 1899.
After leaving the D'Oyly Carte, Russell disappeared from the London Stage until 1907, when he resurfaced at the Waldorf as Colonel Charleton in the musical comedy The Gipsy Girl. He later appeared in a number of musical shows, notably as Andrea and Crumpet in the immeasurably popular The Maid of the Mountains (Daly's, 1917-20, a run of some 1352 performances).
---
R Index | "Who Was Who" Homepage
---