THE D'OYLY CARTE OPERA COMPANY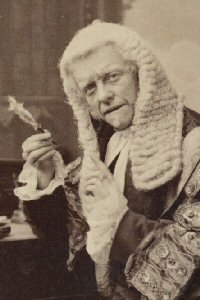 J. H. Ryley as the Lord Chancellor in Iolanthe
J. H. Ryley (1878, 1879-80, 1881-83)
[Born c.1841, died Edgeware, Middlesex 28 Jul 1922]
Baritone John Handford Ryley began his performing career as a comic duettist and dancer in pertnership with his first wife Marie Barnum. Their famous routine "Dancing Quakers" was a popular hit in the early 1870s on tour and in London, where they were engaged in 1872 by John Hollingshead at the Gaiety. (Sir Despard and Margaret's Act II duet in Ruddigore was later described by the London correspondent for The New York Mirror as "but a replica of an old time "Dancing Quakers' duet...by J. H. Ryley and Marie Barnum.")
The Gaiety was also the scene of Ryley's first appearance in musical theatre--in Ali Baba a la Mode in 1872. Ryley later appeared as Fernando in Cattarina, a comic opera by Robert Reece and Frederic Clay, at the Charing Cross Theatre, London, and on tour from May to October 1875, and in Manchester as Captain Flint in Alfred Cellier's The Sultan of Mocha in March 1876. He was the original Zapeter in Gilbert & Clay's Princess Toto (Theatre Royal, Nottingham, and on tour June-September 1876), and Amen Squeak in Cellier's Nell Gwynne (Prince's Theatre, Manchester, October-November 1876).
He began his D'Oyly Carte career in March 1878, appearing as John Wellington Wells with the Comedy-Opera Company Ltd. in the first provincial production of The Sorcerer, and the Learned Judge in Trial by Jury on the same bill. In September 1878 the Company gave the first provincial H.M.S. Pinafore, with Ryley as Sir Joseph Porter, and in October they added Congenial Souls to the program. In this one-act farce, written by Ryley himself, the author appeared as Adolphus Fitzbrown. The tour ended on December 7, 1878.
Nearly a year later, he was chosen to play Sir Joseph for American audiences in the first authentic D'Oyly Carte Pinafore at New York's Fifth Avenue Theatre, December 1, 1879. On December 31 of that year, in the same theatre, he created the role of Major General Stanley in The Pirates of Penzance, playing it in New York and on tour until June 1880.
Ryley remained in America, appearing in leading roles in all D'Oyly Carte New York productions in the two years spanning February 1881 and February 1883. He was Captain Felix Flapper in Billee Taylor (February-June 1881), Reginald Bunthorne in Patience (September 1881-March 1882), Blood Red Bill in Claude Duval (March-April 1882), Philip of Aragon (September-October 1882) and Don Jose de Mantilla (October 1882) in Les Manteaux Noirs, Peter van Dunk in Rip Van Winkle (November 1882), and the Lord Chancellor in Iolanthe (November 1882-February 1883).
Although February 1883 marked the end of his D'Oyly Carte career, Ryley would continue to appear in major Gilbert & Sullivan productions in America. In February and March 1884, Ryley took the role of King Gama in New York's first production of Princess Ida, staged with D'Oyly Carte authorization at the Fifth Avenue Theatre by E. E. Rice. In August 1885, he was engaged by James Duff, who had hoped to steal D'Oyly Carte's thunder with a rival Mikado at the Standard Theatre. Duff's version, with Ryley as Ko-Ko, ran until November and then left for Chicago. Later, Ryley appeared with Lillian Russell in a tour that included Iolanthe (as Lord Chancellor, 1887), and was Jack Point with Rudolph Aronson's touring company in a Carte-sanctioned Yeomen of the Guard, appearing in Boston in February 1889.
Ryley would continue to appear in New York and on tour in America during the 1890s. He eventually returned to England, appearing in London on several occasions between 1900 and 1913. Among his London roles was Josh Harmony in Mrs. Grundy (Scala, 1905), a play by his second wife Madeleine Lucette. Madeleine Lucette had two D'Oyly Carte engagements of her own in 1878 and 1881.
Ryley later appeared on screen as the Gravedigger in a 1913 silent film version of Hamlet, starring Johnston Forbes-Robertson and Gertrude Elliott. His only other film credit was the 1916 mystery Who Killed Simon Baird?.
---
R Index | "Who Was Who" Homepage
---