THE D'OYLY CARTE OPERA COMPANY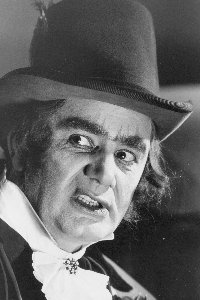 Kenneth Sandford as Sir Despard Murgatroyd in Ruddigore
Kenneth Sandford (1957-82)
[Born Godalming, Surrey 28 Jun 1924, died Market Drayton, Shropshire 19 September 2004]
Kenneth Sandford, real name Kenneth Parkin, studied at the Sheffield College of Arts and Crafts, then at the Royal College of Art in London. During his last year in college he was engaged for the chorus of the musical Carousel at Drury Lane (June 1950-October 1951). He was soon made an understudy and went on on several occasions as Billy Bigelow. He then went on a year-long tour as Count Igor Staniev in King's Rhapsody before returning to the West End where he appeared as Sandy Twist in Paint Your Wagon (His Majesty's, February 1953-April 1954), and in a revue called Jokers Wild (Victoria Palace, December 1954-June 1956). He also found work on tour, in concerts, and, occasionally, in oratorio.
Determined to go into opera (he had contacted Sadler's Wells, Glyndebourne, and Covent Garden without success), Sandford jumped at the opportunity to audition for the D'Oyly Carte in 1957. Though he knew little of the Company or Gilbert & Sullivan, he was offered a contract as principal baritone, replacing Arthur Richards. He joined the Company in July of that year, immediately assuming the roles of the Sergeant of Police in The Pirates of Penzance, Archibald Grosvenor in Patience, Private Willis in Iolanthe, King Hildebrand in Princess Ida, Pooh-Bah in The Mikado, Sir Despard Murgatroyd in Ruddigore, Wilfred Shadbolt in The Yeomen of the Guard, and Don Alhambra del Bolero in The Gondoliers. He would be a stalwart of the Company for the next twenty-five years.
As a former tenor, Sandford was never comfortable with the Sergeant, and he happily yielded the role to George Cook in 1962. He was delighted to add Doctor Daly to his repertoire when The Sorcerer was revived in a new production in March 1971. For the 1975 D'Oyly Carte Centenary Celebration, Sandford played all his principal baritone roles as well as King Paramount in Utopia Limited, and Ludwig in The Grand Duke (in concert). He continued to play all his familiar roles through the remaining days of the Company, ending on the last night February 27, 1982.
During his years with the D'Oyly Carte, Sandford recorded all his major roles except Doctor Daly, several more than once:The Sergeant of Police (1958), Grosvenor (1961), Private Willis (1960, 1974), King Hildebrand (1965), Pooh-Bah (1958, 1973), Sir Despard (1962), Wilfred Shadbolt (1964, 1979), Don Alhambra (1961, 1977), Paramount (1976), and Ludwig (1976). He also recorded several parts with the Company that he never performed on stage:the Counsel for the Plaintiff (1964) and the Usher (1975) in Trial by Jury, Phantis and Lord Dramaleigh in a recording of Utopia excerpts (1964), and Thomas Brown in The Zoo (1978). Sandford took part in the 1965 BBC television broadcast of Patience as Grosvenor, the 1966 film version of The Mikado as Pooh-Bah, and was the voice of Sir Despard in the 1967 Halas & Batchelor Ruddigore cartoon.
He was one of several D'Oyly Carte artists to appear on a Reader's Digest LP collection, "The Best of Gilbert & Sullivan" in 1963. Prohibited by contract from recording the roles he had recorded with D'Oyly Carte, Sandford can be heard in this collection of excerpts as the Pirate King in The Pirates of Penzance, the Earl of Mountararat in Iolanthe, the Duke of Plaza-Toro and Giuseppe in The Gondoliers, and Colonel Calverley in Patience.
After the D'Oyly Carte's closure, Sandford remained closely involved with Gilbert & Sullivan. He served as managing director of "The Magic of Gilbert & Sullivan" for a number of years and, along with Roberta Morrell, co-directed and appeared in several Savoy Operas at Gawsworth Hall, Cheshire. He performed and conducted master classes at Gilbert & Sullivan conferences at Buxton, Toronto, and Philadelphia. Sandford toured North America frequently with Geoffrey Shovelton, John Ayldon, Lorraine Daniels, and others with a concert program of G&S favorites called "The Best of Gilbert & Sullivan," and may be heard singing selections from the G&S repertoire on a cassette recording of that title privately produced in 1995.
Sandford's extraordinary career is lovingly detailed in his biography, "Kenneth Sandford: 'merely corroborative detail'," by his friend and colleague Roberta Morrell, published by Scotia Press, Leicester, in 1999.
---
S Index | "Who Was Who" Homepage
---