THE D'OYLY CARTE OPERA COMPANY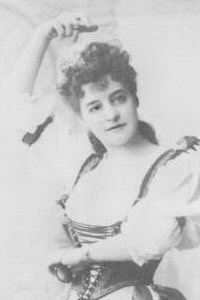 Cissie Saumarez as Gianetta in The Gondoliers
Cissie Saumarez (1889-92)
[Born Bath, Somerset 1870, died London 23 Jul 1930]
Born and educated in Bath, Cissie Saumarez (real surname Bartrum) made her first public appearance in 1886 at the Bath Saloon, Torquay. After further experience on the concert platform she made her theatrical debut at London's Lyric Theatre where she understudied the part of Phyllis Tuppitt in Alfred Cellier's long-running Dorothy, eventually taking over the part toward the end of a run that ended in April 1889.
She was then engaged as an understudy in D'Oyly Carte's Company at the Savoy, where she took her first named part:Guilia in The Gondoliers in December 1889. In March 1890 she joined the newly formed D'Oyly Carte Opera Company "C" as Gianetta in The Gondoliers, but returned to the Savoy the following month. She is also reported to have played Casilda in the provinces but that assignment has not been traced.
Back at the Savoy she continued as Giulia, but filled in briefly there as Gianetta in June 1890 when Geraldine Ulmar left the cast. From July to September she was Fiametta, then Giulia again from September 1890 to April 1891. At that point, Miss Saumarez took up Gianetta again until near the end of the run in June when she was once more Fiametta. When The Nautch Girl opened at the Savoy on June 30, Miss Saumarez took the small part of Suttee. She also appeared as Polly in the curtain raiser Captain Billy toward the end of the Nautch Girl run, and again when Captain Billy was revived with The Vicar of Bray in February 1892. She left the D'Oyly Carte and the Savoy shortly thereafter.
After leaving the D'Oyly Carte she had several engagements in the provinces with Milton Bode and others, toured for two years in the title role in Dorothy with Horace Lingard's Company, and had the misfortune of touring in a musical comedy called Sport. Sport's producer, a Mr. Tuck, failed to pay his leading actors and Miss Saumarez had to take him to court to collect. She returned to London, appearing in several Shakespeare plays at the Lyceum and Comedy Theatres in 1900-01. From 1903-08 she toured with Frank Benson's Company. In April 1910 she was back in London for a single performance in The Taming of the Shrew at His Majesty's Theatre.
As Mrs. Arthur Whitby, she appeared in London sporadically in the 1920s:in the comedy A Roof and Four Walls (Apollo, 1923), the drama The Hour and the Man (New, 1924), the play The Offence (Wyndham's, 1925), Shakespeare's Henry VIII (Empire, 1925-26), and The Offence again (Everyman, 1929).
---
S Index | "Who Was Who" Homepage
---