THE D'OYLY CARTE OPERA COMPANY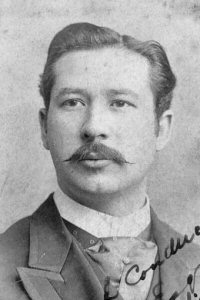 Avon Saxon
Avon Saxon (1894)
[Born c.1857, died Halifax, Nova Scotia, Canada 24 Mar 1909]
Avon D. Saxon appeared in New York and Boston with the Boston Ideal Opera Company in January and February 1888. Saxon was listed as a principal and the Ideals' repertoire included Victor, Fra Diavolo, The Daughter of the Regiment, The Bohemian Girl, and Carmen.
He made his London Stage debut as the original Friar Tuck in Arthur Sullivan's romantic opera Ivanhoe at the Royal English Opera House (January-June 1891), and appeared in the same role again when the opera was revived for six performances in November of that year.
He later played Ben Brace in the comic opera Wapping Old Stairs (Vaudeville Theatre, February-April 1894), and in July-August 1894 he had his only engagement with the D'Oyly Carte Opera Company, appearing at the Savoy as Francal in the first production of Messager's Mirette. He left the cast in August, and transferred to the Lyceum the next month where he was Major Victor Pulvereitzer in the comic opera The Queen of the Brilliants, starring Lillian Russell. It was his last appearance on the London Stage.
Saxon returned to North America shortly thereafter and was appearing in concert in Nova Scotia in 1898.
---
S Index | "Who Was Who" Homepage
---