THE D'OYLY CARTE OPERA COMPANY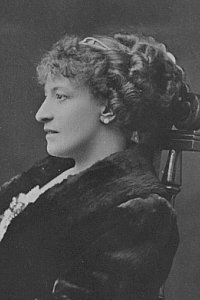 Annie Schuberth
Annie Schuberth (1890)
Annie Schuberth made her London Stage debut at the Prince of Wales's Theatre in 1889, replacing Kate Cutler as Malagueña in Farnie & Planquette's Paul Jones. She also appeared at the same theatre in the one-act companion piece John Smith. On May 29, 1890 she appeared in a double bill of one-act operettas at the Comedy (The Dear Departed and Head or Heart).
She was one fifteen ladies to appear as Gianetta during the first run of The Gondoliers at the Savoy. She gave six performances between July 9 and 15, 1890. It was her lone engagement with the D'Oyly Carte organization.
Miss Schuberth then went to the Lyric Theatre, where she appeared as Peggy in The Sentry (October 1890-March 1891). Her subsequent roles in London were Lady Belgravia in Love and Law (Lyric, March-December 1891), Señora Inez in Miss Decima (Prince of Wales's, 1892), Marion in Poor Jonathan (Prince of Wales's, 1893), and Robin Hood in the fairy pantomime Santa Claus (Lyceum, 1894-95). In 1893 she toured in The Magic Opal, a light opera by Arthur Law and Isaac Albeniz.
---
S Index | "Who Was Who" Homepage
---