THE D'OYLY CARTE OPERA COMPANY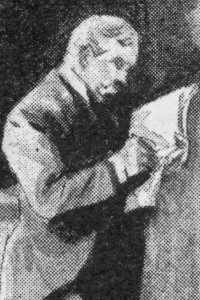 W. H. Seymour
W. H. Seymour (1877, 1879-81)
[Born 13 Mar 1851, died c.1901]
William H. Seymour was for twenty years (1881-1901) stage manager for the D'Oyly Carte Opera Company at the Opera Comique and the Savoy.
He was earlier a tenor chorister, understudy, and small part player, first on tour with Mr. D'Oyly Carte's "Second London Company," where in September 1879 he filled in briefly as Ralph Rackstraw in H.M.S. Pinafore, and later at the Opera Comique. There he deputized on occasion for George Power as Ralph (November 1879) and as Frederic in The Pirates of Penzance (March, September, and October 1880). In April and May 1881 he appeared regularly as Mr. Liverby in the "curtain-raiser" In the Sulks. Seymour also appeared in a single Opera Comique benefit matinee performance of Burnand & Sullivan's Cox and Box on October 29, 1879, as Mr. Box.
W. H. Seymour was a "Pleasure-seeker" in Carte's own one-act musical pastoral Happy Hampstead when it was produced at the Royalty Theatre, London, under the management of Carte and Kate Santley, in January and February 1877. He also appeared on tour with Miss Santley as Council for the Plaintiff in Trial by Jury and Jamilek in Gilbert and Clay's Princess Toto (Spring and Summer 1877), and at the Royalty in another Santley vehicle, Frank Desprez's comic opera Tita in Thibet, as the Little Bonze in January 1879.
Seymour remained with the D'Oyly Carte organization for the rest of his life. Carte, who died in April 1901, left Seymour a bequest of £500. Sadly, Seymour himself died within the year.
---
S Index | "Who Was Who" Homepage
---