THE D'OYLY CARTE OPERA COMPANY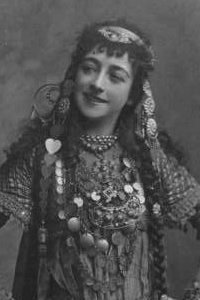 Jose Shalders as Banyan in The Nautch Girl
Jose Shalders (1889-94)
Mezzo-soprano Jose Shalders served with the D'Oyly Carte Opera Company on tour and at the Savoy from 1889 to 1894. Her first named part was Phoebe Meryll in The Yeomen of the Guard, a role she held briefly in September 1889 on tour with D'Oyly Carte Opera Company "B." By the end of the year she was at the Savoy, in the chorus for the original production of The Gondoliers (December 1889-June 1891). During the run, she filled in from time-to-time (February and August 1890, March and June 1891) as Vittoria while Annie Cole was deputizing for Jessie Bond as Tessa, and also made occasional appearances as Inez.
Miss Shalders remained at the Savoy for The Nautch Girl (June 1891-January 1892), taking the part of Banyan in August and again from October to November 1891. For The Vicar of Bray (January to June 1892) she again began in the chorus, but took over the part of Blanche in March.
She didn't have a named part when Haddon Hall opened in September (the Savoy had been closed for fourteen weeks), but did take the small part of Meg in Jane Annie when that work was produced in May 1893, switching to Milly when Jane Annie went on tour in July. During or just after the tour, Miss Shalders transferred to D'Oyly Carte Opera Company "E," appearing as Nance in Haddon Hall in August 1893. After a spell as chorister with Carte's Company "D," she joined Company "A" in July 1894. Between July and December 1894 she appeared as Melene in Utopia Limited, substituting on occasion in September for Louie Rene as Lady Sophy. She appears to have left the D'Oyly Carte organization when Company "A" disbanded in December 1894.
After leaving the D'Oyly Carte, Miss Shalders appeared in New York in Aladdin, Jr. (Broadway Theatre, April-May 1895), and had one further role in London, as Mannuelita in a revival of Offenbach's La Perichole at the Garrick Theatre (September 1897).
---
S Index | "Who Was Who" Homepage
---