THE D'OYLY CARTE OPERA COMPANY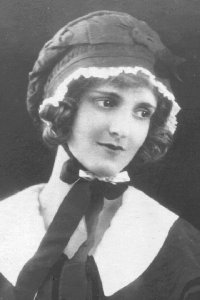 Eileen Sharp as Mad Margaret in Ruddigore
Eileen Sharp (1922-25)
[Born Brighton 20 Sep 1900, died Wimbledon, Surrey 25 Mar 1958]
Mezzo-soprano Eileen Sharp made her first stage appearance on stage in the chorus of The Lady of the Rose at the Prince's Theatre, Manchester, December 1921. She joined the D'Oyly Carte Repertory Opera Company in March 1922, appearing over the next four months in the small parts of Kate in The Pirates of Penzance, Leila in Iolanthe, Peep-Bo in The Mikado, Ruth in Ruddigore, and Vittoria in The Gondoliers.
In the 1922-23 season she appeared regularly in the same five roles, plus Lady Saphir in Patience, and filled in on occasion for Catherine Ferguson in all the principal mezzo roles:Constance Partlett in The Sorcerer, Hebe in H.M.S. Pinafore, Edith in The Pirates of Penzance, Lady Angela in Patience, Iolanthe in Iolanthe, Melissa in Princess Ida, Pitti-Sing in The Mikado, Mad Margaret in Ruddigore, Phoebe Meryll in The Yeomen of the Guard, and Tessa in The Gondoliers. She assumed these roles on her own in July 1923, following Miss Ferguson's departure, and played them for the next two seasons, but then left the D'Oyly Carte in June 1925. During her two years as leading soubrette she recorded Mad Margaret (1924) and Melissa (1925).
She then took several roles on the legitimate stage in London over the next three years:the maid in The Show (St. Martin's, 1925), Ata in The Moon and Sixpence (New, 1925), Posy in Quinney's (New, 1925-26), Myriem in Prince Fazil (New, 1926), Adrienne in The Marquise (Criterion, 1927), and Penelope Hillcourt in Down Wind (Arts, 1928):as well as appearing from time to time on tour.
---
S Index | "Who Was Who" Homepage
---