THE D'OYLY CARTE OPERA COMPANY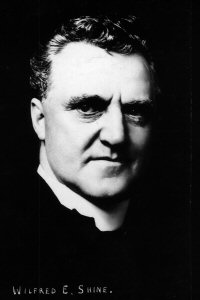 Wilfred E. Shine
Wilfred E. Shine (1884, 1885)
[Born Manchester, Lancashire 12 Jul 1864, died Kingston, Surrey 14 Mar 1939]
Wilfred E. Shine made his first appearance as an actor in pantomime at the Prince's Theatre, Manachester, in 1879. He played his first "stock" season the following year at the Theatre Royal, Greenock, and made his London debut in September 1883 at the Globe Theatre as Matthew Nugent in Frederick Broughton's one-act drama Elsie.
Shine spent portions of 1884 and 1885 as leading comic baritone on tour with the D'Oyly Carte organization:appearing first as Reginald Bunthorne in Patience, with Mr. D'Oyly Carte's "C" ("Patience" No. 1) Company, March-July 1884, and with Carte's "E" Company later in July. He then appeared at the Gaiety in the comic opera Dick (summer 1884). From September to December 1885 he was once more with D'Oyly Carte's "C" Company, by then a repertory company. Shine's roles were Bunthorne again, the Learned Judge in Trial by Jury, John Wellington Wells in The Sorcerer, and Major-General Stanley in The Pirates of Penzance.
Thereafter Shine enjoyed a lengthy and varied stage career, appearing in farce, comedy, drama, tragedy, pantomime, burlesque, and (on rare occasions) comic opera. In the 1890s he traveled with Robert Brough to Australia, New Zealand, India, Burma, Ceylon, China, and Hong-Kong, returning to England in 1898. She spent the next three decades in London and the British provinces. His roles, far too numerous to mention, included one:Christopher in The Jeffersons:that he played over 2000 times from 1917 to 1924. His last role in London was Owen Keegan in the play Autumn Fire (Everyman Theatre, 1931), a work that he also produced.
By then, Shine was also dabbling in films. He would appear in at least a dozen between 1929 and 1937.
---
S Index | "Who Was Who" Homepage
---