THE D'OYLY CARTE OPERA COMPANY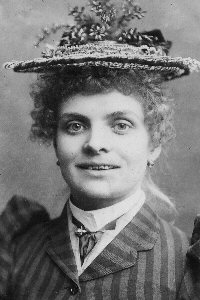 Jessie Shirley
Jessie Shirley (1884)
[Born 1862, died c.1946]
Jessie Shirley appeared briefly on tour as Lady Psyche in Princess Ida with Mr. D'Oyly Carte's "A" ("Princess Ida" No. 2) Company in March 1884. It was her only role with the D'Oyly Carte organization. Miss Shirley appeared in London at the Prince of Wales's Theatre as Araminta Robinson in Ivan Caryll & Henry J. Leslie's one-act "musical mixture" Jubilation in 1887-88.
She later toured in the "comedy opera" My Sweetheart with the Miller & Elliston Company, appearing as Tina at the Gloucester Theatre in October 1892.
Miss Shirley was married for a time to D'Oyly Carte tenor Frank Boyle. They had two daughters. Jessie's older sister Ellen Shirley appeared with the D'Oyly Carte at the Opera Comique in 1880-81.
---
S Index | "Who Was Who" Homepage
---