THE D'OYLY CARTE OPERA COMPANY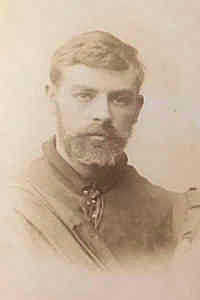 W. R. Shirley as Leonard Meryll in The Yeomen of the Guard
W. R. Shirley (1887-91)
W. R. Shirley joined Mr. D'Oyly Carte's "B" Company in 1887, appearing as Robin Oakapple in Ruddigore with that Company from April to July of that year. He left to join the main Company at the Savoy as a chorister and, beginning in August, one of Ruthven's ghostly ancestors, but resumed touring as Robin again with Carte's "C" Company in December. The tour ended that month.
Shirley probably rejoined the Savoy Company at that point, but didn't appear in a named part until October 1888 when he created the role of Leonard Meryll in The Yeomen of the Guard. He played Leonard at the Savoy for the next year, adding Ernest Peppercorn in Mrs. Jarramie's Genie when that curtain raiser was added in September 1889. Also in September, Shirley filled in briefly for Courtice Pounds as Colonel Fairfax in Yeomen.
In October 1889, Shirley returned to touring with D'Oyly Carte Opera Company "B" as leading tenor. His roles were Fairfax (October 1889-April 1890), Nanki-Poo in The Mikado (December 1889-March 1890), and Marco in The Gondoliers (March-November 1890). In November 1890 Shirley left Company "B," returning to the Savoy, again as Pounds' understudy:filling in as Marco in January, February, and April 1891. He also appeared as Francesco in The Gondoliers in March 1891, and from May until June when The Gondoliers closed. He was in the chorus of The Nautch Girl for the beginning of the run that began in June, but gone within a few months.
Shirley left the D'Oyly Carte for bigger roles elsewhere in London, appearing first as Fritzchen in Offenbach's Lischen and Fritzchen (Criterion, September-November 1891). His many roles of the next several years included Jackson in W. S. Gilbert & George Grossmith's "Haste to the Wedding" (Criterion, July-August 1892). He later appeared at the Comedy, Avenue, and Trafalgar Square Theatres in 1892-94. After five years away from London Stage, he returned in December 1899, at the Lyceum in The Snow Man (December 1899-January 1900) and later appeared at Terry's in The Thirty Thieves (January-February 1901).
Shirley then left England, touring with George Musgrove's Comic Opera Company in Australia (in A Chinese Honeymoon) and New Zealand (in that country's first production of Victor Herbert's The Fortune-Teller, Auckland, 1903). He later made his only New York appearance as Corner in the musical play The School Girl (Daly's and Herald Square Theatres, September-December 1904).
---
S Index | "Who Was Who" Homepage
---