THE D'OYLY CARTE OPERA COMPANY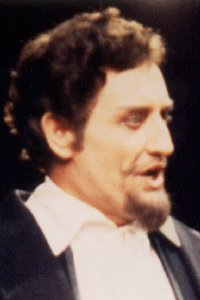 Geoffrey Shovelton as Colonel Fairfax in The Yeomen of the Guard
Geoffrey Shovelton (1975-79, 1980-82)
[Born Atherton, Lancashire 27 Apr 1936, died New Portland, Maine 4 Jul 2016]
Geoffrey Shovelton began his professional career in oratorio, performing in standard works such as Handel's Messiah, Haydn's Creation, Mendelssohn's Elijah, and Verdi's Requiem. After receiving awards in competitions in Holland and Belgium, he embarked on an operatic career, appearing with Opera for All, Basilica Opera, and Scottish Opera. He first sang the Savoy Operas with "Gilbert & Sullivan for All" and "The World of Gilbert & Sullivan."
He first joined the D'Oyly Carte Opera Company in September 1975 as principal tenor, following the departure of Colin Wright. Shovelton's roles during the 1975-76 season were the Duke of Dunstable in Patience, Earl Tolloller in Iolanthe, Nanki-Poo in The Mikado, Colonel Fairfax in The Yeomen of the Guard, and Luiz in The Gondoliers. He added Cyril in Princess Ida and Mr. Box in Cox and Box to his repertoire in February 1977, when those opera were revived. He was the Defendant in a special performance of Trial by Jury in December 1978 at Middle Temple Hall commemorating the Bar Musical Society's first hundred concerts. In April 1979 he left to tour with several ex-D'Oyly Carters in a group he formed called "The Gilbert & Sullivan Companions," and took other free-lance assignments. He rejoined the D'Oyly Carte in September 1980, and remained with the Company until its closure in February 1982. During his tenure with the D'Oyly Carte he recorded Luiz (1977), Box (1978), Fairfax (1979), and narrated the Company's 1978 recording of The Zoo.
Following the D'Oyly Carte's closure, Shovelton remained closely involved with Gilbert & Sullivan. He appeared with the London Savoyards as Ralph Rackstraw in H.M.S. Pinafore, Frederic in The Pirates of Penzance, and the Defendant in Trial by Jury, and performed each summer since 1985 in the open air productions of the Savoy Operas at Gawsworth Hall, Cheshire. He and his wife, Deborah Clague, directed numerous Gawsworth Hall productions beginning in 1995. He has also produced Gilbert & Sullivan operas for a number of amateur groups on both sides of the Atlantic. They later moved to America, where their activities included directing productions for the Hancock County (Maine) Gilbert & Sullivan Society.
Shovelton toured North America frequently with Kenneth Sandford, John Ayldon, Lorraine Daniels, and others with a concert program of G&S favorites called "The Best of Gilbert & Sullivan," devised and narrated by Geoff. He may be heard singing selections from the G&S repertoire on a cassette recording of that title privately produced in 1995. He may also be seen as a soloist in the concert video recording "Gilbert & Sullivan Present their Greatest Hits," from Royal Albert Hall in 1982.
A talented artist, Shovelton's cartoons are well known in the G&S community. He designed the program cover for the D'Oyly Carte last night at the Adelphi, as well as for all the Gawsworth Hall productions. He also produced a long line of Christmas and note cards with a Gilbert & Sullivan theme. His cartoons were a regular feature of the New York Gilbert & Sullivan Society's newsletter The Palace Peeper, and he provided original artwork for all three editions of Harry Benford's definitive "Gilbert & Sullivan Lexicon." The New York branch of the Gilbert & Sullivan Society designated Geoffrey Shovelton as its Honorary President.
---
S Index | "Who Was Who" Homepage
---