THE D'OYLY CARTE OPERA COMPANY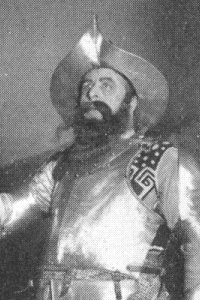 George Sinclair as Scynthius in Princess Ida
George Sinclair (1887-90, 1894-1923)
[Born c.1857, died Hastings 9 Dec 1936]
Bass-baritone George Sinclair served with D'Oyly Carte companies, mostly on tour, for over thirty years. He appears to have begun as a chorister in 1887, taking his first named part with D'Oyly Carte Opera Company "E" in June 1889 when he filled in for Lawrence Gridley as Wilfred Shadbolt in The Yeomen of the Guard. In January-February 1890 he was the Headsman in the same opera.
We then lose track of him until January 1894 when he began three years as Bob Beckett in H.M.S. Pinafore with D'Oyly Carte Opera Company "C" (a repertory company). He also appeared briefly as Guron in Princess Ida (December 1895), but his duties in the other operas in the repertoire were limited to the chorus.
From November 1896 to July 1897 Sinclair toured South Africa as a chorister with a D'Oyly Carte touring company, with the Herald in The Grand Duke and, possibly, the Notary in The Sorcerer as his only named parts. Upon his return to Company "C" in July 1897 he resumed Bob Beckett, and in 1899 added Scynthius in Princess Ida and Giorgio in The Gondoliers to his repertoire. He remained with Company "C" until March 1902.
Sinclair made his second D'Oyly Carte South Africa tour from April 1902 to May 1903. This time his roles were Bill Bobstay in Pinafore, Private Willis in Iolanthe, Pish-Tush in The Mikado, the Headsman in Yeomen, Antonio and Giorgio in Gondoliers, Captain Corcoran in Utopia Limited, and the Soldier of the Guard in The Rose of Persia. After his return to England he joined D'Oyly Carte Opera Company "E" in July 1903, appearing as Beckett, Second Yeoman in The Yeomen of the Guard, and Giorgio until December of that year when the Company was disbanded.
From July 1904 until January 1923 Sinclair served with the D'Oyly Carte Repertory Opera Company. His principal roles were Bob Beckett (1904-14, 1914-21) and Bill Bobstay (1914) in Pinafore, Pish-Tush (1904-05), the Usher (1906-19, and on occasion in 1920) and Foreman (1919-21) in Trial by Jury, Private Willis (1906-07, 1908-09, 1913-15, and on occasion 1907-08, 1910-11), Scynthius (1907-23), Second Yeoman (1912-13), the Notary (1916-17, 1918-20), and the Sergeant of Police in The Pirates of Penzance (on occasion 1920-21).
---
S Index | "Who Was Who" Homepage
---