THE D'OYLY CARTE OPERA COMPANY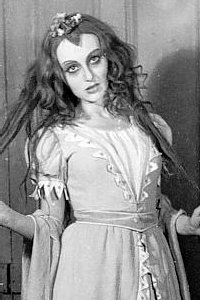 Marian Smith as Mad Margaret in Ruddigore
Marian Smith (1947-49)
[Born Oldham 12 Nov 1923, died Oldham 14 Jan 2006]
Mezzo-soprano Marian Smith joined the D'Oyly Carte Opera Company as a chorister in February 1947. During the 1947-48 season she took over the small part of Vittoria in The Gondoliers, and filled in on occasion for principal mezzo-soprano Denise Findlay as Pitti-Sing in The Mikado and Phoebe Meryll in The Yeomen of the Guard.
In August 1948 Miss Smith took over several smaller roles. In addition to Vittoria, she now appeared as Kate in The Pirates of Penzance, the Lady Saphir in Patience, and Leila in Iolanthe. After Ruddigore was restaged on November 1, 1948, she took her largest role: that of Mad Margaret (shared with Pauline Howard). Miss Smith also deputized in the 1948-49 season as Hebe in H.M.S. Pinafore, Pitti-Sing, Phoebe, and Tessa in The Gondoliers.
Marian Smith left the D'Oyly Carte organization in April 1949. She was married to D'Oyly Carte chorister John Hughes.
---
S Index | "Who Was Who" Homepage
---