THE D'OYLY CARTE OPERA COMPANY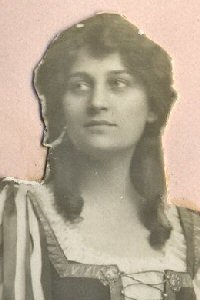 Phyllis Smith as Elsie Maynard in The Yeomen of the Guard
Phyllis Smith (1913-15, 1915-17)
[Born 1890]
Soprano Phyllis Smith joined the D'Oyly Carte Principal Repertory Opera Company in July 1913, taking two small named parts:Fleta in Iolanthe and Fiametta in The Gondoliers:and a share of a third:Chloe in Princess Ida:during her first season. By July 1914 she had dropped Chloe, but picked up the Lady Saphir in Patience. In January 1915 (following the departure of Hilda Cross) Miss Smith began to assume some slightly larger parts:the Plaintiff in Trial by Jury, the Lady Ella in Patience, Celia in Iolanthe, Lady Psyche in Princess Ida, and Kate in The Yeomen of the Guard, while retaining Fiametta. That season she also filled in on occasion as Elsie Maynard in Yeomen and Gianetta in Gondoliers.
Miss Smith left the D'Oyly Carte in May 1915, a month before the season ended, appearing in London as Dryope in a revival of The Arcadians (Shaftesbury, May 20-June 19, 1915). She was lured back to the D'Oyly Carte fold the following month, this time as principal soprano. Her roles over the next two years (July 1915-June 1917) were Josephine in H.M.S. Pinafore, Ella in Patience, Celia in Iolanthe (1915-16 only), Princess Ida in Princess Ida, Elsie in Yeomen, Gianetta in The Gondoliers, and Aline in The Sorcerer (revived for 1916-17 season).
She left the D'Oyly Carte for the second and final time in June 1917. Miss Smith later worked in grand opera and Shakespeare, appearing at the Old Vic in 1918 as Lola in Cavalleria Rusticana and Balthazar in Much Ado About Nothing.
Her niece, Margaret Smith, sang with the D'Oyly Carte Opera Company between 1957 and 1960.
---
S Index | "Who Was Who" Homepage
---