THE D'OYLY CARTE OPERA COMPANY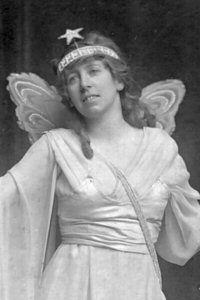 Tessa Snelson in Iolanthe
Tessa Snelson (1892-95, 1908-09, 1915-23)
[Born Nuthurst, Lambeth 28 Jan 1870, died 6 Sep 1939]
Theresa Mary Hewett Snelson was engaged by Richard D'Oyly Carte as a chorister for the Savoy in 1892. In 1894 she joined D'Oyly Carte Opera Company "E" on tour, appearing as Princess Nekaya in Utopia Limited (October 1894, December 1894-March 1895), a dancing girl in Mirette (January-February 1895), and Nina in The Chieftain (February-August 1895).
We then lose track of her until April 1908, when she returned to the Savoy as a chorister for the start of the Second London Repertory Season. She was back on tour from October 1908 to June 1909 with the D'Oyly Carte Principal Repertory Opera Company, taking the small roles of Sacharissa in Princess Ida, Peep-Bo in The Mikado, and Fiametta in The Gondoliers, but when the London season ended and the companies were merged she was either out of a job or back in the chorus.
She served in the chorus of the D'Oyly Carte Repertory Opera Company from July 1915 to January 1923, except for the months from April to June 1922 when she was in the chorus with the D'Oyly Carte "New" Opera Company.
Tessa Snelson was married to D'Oyly Carte baritone Hugh Enes Blackmore, and with him served as producer for several amateur Gilbert & Sullivan companies and principal of the G & S School of Opera. They were charter members of the Gilbert & Sullivan Society in London, serving continuously on the Society's Entertainment Committee until her death in 1939. Her brother, Jeoffrey Snelson, also appeared with the D'Oyly Carte, and her uncle, John Hollingsworth, created the role of Counsel to the Plaintiff in the original production of Trial by Jury.
---
S Index | "Who Was Who" Homepage
---