THE D'OYLY CARTE OPERA COMPANY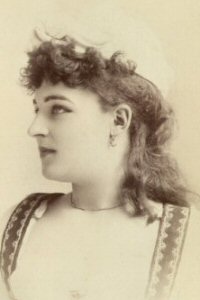 Leonore Snyder as Gianetta in The Gondoliers
Leonore Snyder (1890, 1891-92)
[Born Indianapolis, Indiana 1870]
Leonore Snyder was at age fourteen singing at U.S. President Benjamin Harrison's Presbyterian Church in her native Indianapolis. A series of charity performances of The Pirates of Penzance led to an engagement by a Philadelphia manager and ultimately to a meeting in New York with Richard D'Oyly Carte. Carte was impressed and engaged her to replace Esther Palliser in the role of Gianetta with his New York production of The Gondoliers at Palmer's Theatre in April 1890. From May 12 to July 5, 1890 she toured the British Isles as Gianetta with the "American Company," now Carte's Company "D," except for two days in May (the 22nd and 23rd), when she sang Gianetta at the Savoy.
She went back to America, where she toured with James Duff's Opera Company in January 1891, but she must have been well received in London for she returned to the Savoy to create the roles of Hollee Beebee in The Nautch Girl (June 1891-January 1892) and Winifred in the revised production of The Vicar of Bray (January-June 1892) for Carte.
By August 1892, however, Miss Snyder had returned to America, appearing that month as Patience in Patience and in September as Phyllis in Iolanthe with Henry E. Dixey's Company in New York. She appeared in New York with Duff again in March 1893, as a substitute Tessa in The Gondoliers at the Casino.
---
S Index | "Who Was Who" Homepage
---