THE D'OYLY CARTE OPERA COMPANY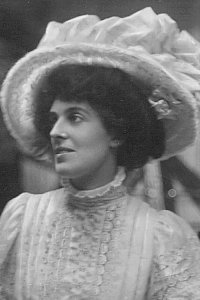 Elsie Spain as Josephine in H.M.S. Pinafore
Elsie Spain (1908, 1908-09, 1909-10)
[Born 1879, died 28 May 1970]
As an amateur, Elsie Spain appeared as Theresa in W. S. Gilbert & Alfred Cellier's The Mountebanks with the Sydenham Operatic Society, under the direction of Charles H. Cellier, in November 1897. Charles H. Cellier was the brother of the composer.
Miss Spain made her professional debut in 1907 as understudy to Isabel Jay as Sally Hook in Miss Hook of Holland (Prince of Wales's, January 1907-April 1908), playing the part herself for two months.
In July 1908 Miss Spain made her D'Oyly Carte debut at the Savoy as Josephine in H.M.S. Pinafore, the second opera staged in the Second London Repertory Season. She left the D'Oyly Carte and the Savoy on September 26, appearing at the Hicks as Brigette in the musical comedy The Hon'ble Phil, but returned to the Savoy on November 2, assuming the part of Phyllis from Clara Dow in Iolanthe. She resumed Josephine and added Yum-Yum in The Mikado to her repertoire in December 1908, and took Gianetta and Elsie Maynard when The Gondoliers and The Yeomen of the Guard were revived in January and March 1909, respectively.
When the Repertory Season ended on March 27, 1909, Miss Spain remained in London, appearing as Clarice in Eden & Somerville's The Mountaineers at the Savoy (Deptember-November 1909). This was not a D'Oyly Carte production as the theatre was under the management of C. Herbert Workman. She rejoined the D'Oyly Carte organization for the third and last time in November 1909, on tour with the D'Oyly Carte Principal Repertory Opera Company as Josephine, Mabel in The Pirates of Penzance, Patience in Patience, Phyllis, Princess Ida in Princess Ida, Yum-Yum, Elsie, and Gianetta until February 1910.
She then returned to London for roles in The Islander (Apollo, 1910), The Chocolate Soldier (Lyric, 1910), The Quaker Girl (Adelphi, 1910-12), and The Dancing Mistress (Adelphi, 1912-13). In 1914 she went to Australia where she appeared in several musicals, then returned to London where she was the Bride in The Best Man (London Pavilion and New Theatres, 1915). She later played in Fun and Fancy (Palladium, 1916) and in 1919 toured variety houses with Randall Jackson.
In 1910 she made her only known recording, the duet "I Have a Song to Sing Oh" from The Yeomen of the Guard, with C. H. Workman. It has been preserved on compact disc ("The Art of the Savoyard," Pearl GEMM CD 9991).
---
S Index | "Who Was Who" Homepage
---