THE D'OYLY CARTE OPERA COMPANY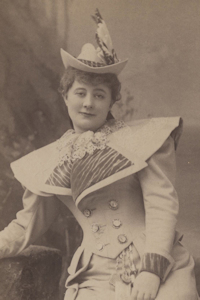 Florence St. John as Rita in The Chieftain
Florence St. John (1894-95, 1897-98)
[Born Plymouth 8 Mar 1855, died London 30 Jan 1912]
Born Margaret Florence Grieg, Florence St. John first sang in public at a concert in her native Plymouth at age eight. She first appeared professionally at that age as a vocalist with N. S. Hodges' touring diorama, and in 1972, at the age of seventeen, married the Company's pianist and conductor, Alfred St. John. In 1875 she came to London with her husband who was dying of consumption. After two years touring with Durand's English Opera Company, her first London appearance came in 1879 in Madame Favart. Several years of success in London and the provinces followed (notably in Olivette), and in 1887 she returned to the Avenue to play in Madame Favart again. In 1888 she joined the Gaiety for Faust up to Date, later appearing in America (1891) and the provinces in the same work, and in the burlesque Carmen up to Data.
Following the death of Mr. St. John, she was married for a time to D'Oyly Carte artist Lithgow James, but that marriage was dissolved and she married Claude Marius in 1882.
She was engaged by the D'Oyly Carte Opera Company in October 1894 as a replacement Mirette in the revised version of Messager's opera at the Savoy. She followed this assignment by creating the role of Rita in The Chieftain at the Savoy (December 1894-March 1895), then appeared briefly on tour with Carte's Company "D" in April 1895, as Mirette and Winifred in The Vicar of Bray.
She then left the D'Oyly Carte, returning to London for engagements at the Lyric, the Shaftesbury, and the Garrick. In December 1897 she rejoined the D'Oyly Carte, returning to the Savoy to play the title role in The Grand Duchess of Gerolstein. She left the D'Oyly Carte for the last time when The Grand Duchess ran its course in March 1898.
Miss St. John continued to appear in musical comedy until 1900, making her last appearance in that medium in Florodora. She made a single Berliner recording, "He Loves Me; He Love Me Not," from Florodora, which was reproduced on the Pearl LP set "The Art of the Savoyard: Volume II" (GEMM 282/3). She then turned her attention to the legitimate stage where she worked until her death in 1912.
A detailed account of her life by Keith Drummond Sharp appeared in the Winter 2006 issue of The Gaiety.
---
S Index | "Who Was Who" Homepage
---