THE D'OYLY CARTE OPERA COMPANY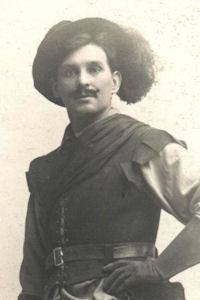 Eric Stanley as Leonard Meryll in The Yeomen of the Guard
Eric Stanley (1916-20)
[Born London 29 Feb 1884]
Eric Stanley served in the D'Oyly Carte Repertory Opera Company chorus from February 1916 until June 1920. During the 1916-17 season he appeared on occasion as Leonard Meryll in The Yeomen of the Guard.
He made his first appearance on the London Stage in the revue Jumble Sale (Vaudeville, December 1920). Over the next sixteen years he appeared in most major West End Theatres, though from 1923 onward his work was on the legitimate stage. He also appeared in New York in 1929, as the Colonel in Journey's End, and wrote the lyrics for a musical extravaganza, The Early Girl, that played in Brighton in 1923.
His last stage role in London was Chief Inspector Charles in The Amazing Doctor Clitterhouse (Haymarket, 1936). Between 1932 and 1938 Eric Stanley appeared in some 18 films, including Invitation to the Waltz (1935) and Living Dangerously (1936).
---
S Index | "Who Was Who" Homepage
---