THE D'OYLY CARTE OPERA COMPANY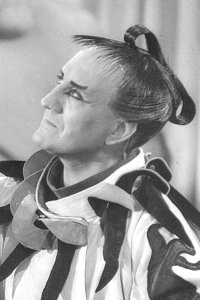 Gregory Stroud as Pish-Tush in The Mikado
Gregory Stroud (1926)
[Born Margate 5 Sep 1892, died Sydney, Australia Dec 1974]
Gregory Stroud made his first appearance on the London Stage in the chorus of A Country Girl at Daly's Theatre in October 1914. After World War I he went to Australia, touring there in Maggie, Bran-Pie, and Chu-Chin-Chow from 1919 to 1921.
Upon returning to London, he appeared in the musical comedy Sally (Winter Garden, 1921-22), an operatic version of The Merchant of Venice (Duke of York's, 1922), and The Music Box Revue (Palace, 1923). In January 1924 he presented a song cycle at the Kingsway Theatre, then was Jack Manley in a fantastic ballad opera, Kate, at the same theatre (February-March 1923), Prince Nurriden in The First Kiss (New Oxford, November-December 1924), and Prince Carl of Koruja in Katja, the Dancer (Gaiety and on tour, 1925).
Stroud then joined the D'Oyly Carte organization, appearing briefly with the D'Oyly Carte "New" Opera Company as Archibald Grosvenor in Patience and Giuseppe in The Gondoliers in August 1926. He then transferred to the main D'Oyly Carte Repertory Opera Company for their thirteen-week London season at the Princes Theatre, appearing as Grosvenor, Giuseppe, Strephon in Iolanthe, and Florian in Princess Ida. When the Company left for Canada in December, Stroud left the D'Oyly Carte.
Stroud had two more brief engagements in London:The Merchant of Venice (Apollo, June 1927) and Louise (Covent Garden, May 1928):then headed back to Australia. There he toured in Gilbert & Sullivan in Australia in 1931, appearing in Trial by Jury, H.M.S. Pinafore, Patience, Iolanthe, The Mikado, The Yeomen of the Guard, and The Gondoliers with the J. C. Williamson Company. He subsequently appeared in Dorothy and Blossom Time, before making another G&S tour in 1935.
He returned to England where, in 1938, he began filming of The Mikado (as Pish-Tush). In addition to appearing in the film version of The Mikado, Stroud had a bit part in the Laurence Olivier/Ralph Richardson thriller Q Planes (USA title: Clouds Over Europe), 1939. He also appeared once on the London Stage, for two performances of Sons of Adam (Arts, March 1939).
Stroud returned to Australia and the Williamson organization for two more tours of Gilbert & Sullivan:1940-41 (as Counsel for the Plaintiff in Trial, Sir Marmaduke Pointdextre in The Sorcerer, Captain Corcoran in Pinafore, Grosvenor, the Earl of Mountararat in Iolanthe, Florian, Pish-Tush, the Lieutenant of the Tower in The Yeomen of the Guard, and Giuseppe) and 1944, with intervening years in Williamson musical comedies.
---
S Index | "Who Was Who" Homepage
---