THE D'OYLY CARTE OPERA COMPANY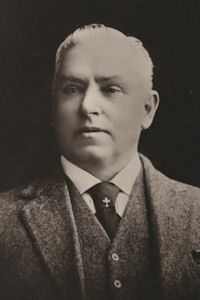 Charles Stuart
Charles Stuart (1894-96, 1902-03, 1914-23)
[Born 8 May 1857, died 11 Nov 1952]
Charles Stuart was a tenor chorister who had three periods of D'Oyly Carte service. During his first, from 1894 to 1896, he reportedly appeared as Captain Corcoran, though it's unclear with which company or even whether the role was in H.M.S. Pinafore or Utopia Limited.
His second engagement was for the D'Oyly Carte's April 1902-May 1903 tour of South Africa, and his third was with the D'Oyly Carte Principal Repertory Opera Company (later called the D'Oyly Carte Repertory Opera Company) from April 1914 to January 1923. No named parts are recorded for either engagement.
Stuart was later doorkeeper at the Savoy Theatre.
---
S Index | "Who Was Who" Homepage
---