THE D'OYLY CARTE OPERA COMPANY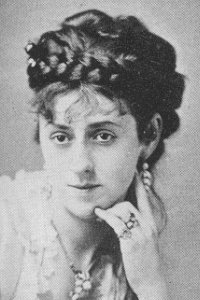 Bessie Sudlow
Bessie Sudlow (1876)
[Born Liverpool 22 Jul 1849, died Steyning, Sussex 28 Jan 1928]
Bessie Sudlow (real name Barbara Elizabeth Johnstone) first appeared before the public in New York in the burlesques The Page's Revel (January 1869), Robinson Crusoe and His Man Friday! (April-May 1869) and Bad Dickey (burlesque of Richard III, December 1869-January 1870) at the Tammany, Grand Theatre. Between 1871 and 1873 she worked regularly at New York's Niblo's Garden, starring in two revivals of The Black Crook, and in several other extravaganzas.
She returned to her native England as an opera bouffe soprano, appearing in Britain as Cesarine in Lecocq's Fleur de The in 1875. From June to August 1876 she was principal soprano for Richard D'Oyly Carte's touring Opera Bouffe Company, appearing in Great Britain and Ireland as the Plaintiff in Trial by Jury, Amanda in Carte's own Happy Hampstead, Müller in The Duke's Daughter, and Lange in La Fille de Madame Angot. The tour was managed by Michael Gunn, who would for a number of years be Carte's silent partner in financing the early Gilbert & Sullivan operas. Shortly after the tour Miss Sudlow became Mrs. Gunn and retired from the stage.
Gunn later built and operated the Gaiety Theatre, Dublin. Upon his death in 1901 the ownership of the Gaiety passed to his widow who retained possession until 1909.
---
S Index | "Who Was Who" Homepage
---