THE D'OYLY CARTE OPERA COMPANY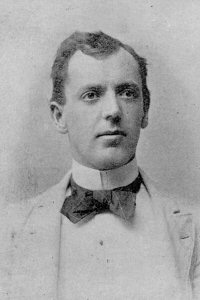 Walter Summers
Walter Summers (1894-96, 1897)
[Born Bristol 1868, died 22 Feb 1905]
Walter Summers appeared as principal comedian with D'Oyly Carte Opera Company "E" from July 1894 to December 1896. His roles were King Paramount in Utopia Limited (July 1894-March 1895), Sir Joseph Porter in H.M.S. Pinafore (September 1894-March 1895), Bobinet in Mirette (January-February 1895), Peter A. Grigg in The Chieftain (February-August 1895), Reginald Bunthorne in Patience (May 1895-February 1896), the Duke of Plaza-Toro in The Gondoliers (August 1895-February 1896 and July-December 1896), Ludwig in The Grand Duke (March-December 1896), and Ko-Ko in The Mikado (July-December 1896).
Also an author and producer, Summers then left the D'Oyly Carte briefly to oversee the production his pantomime Cinderella at the Princess of Wales's Theatre, from its Boxing Day 1896 opening. He returned to Company "E" in March 1897, appearing over the rest of the year as Ko-Ko, Ludwig (until April), the Duke (until July), John Wellington Wells in The Sorcerer (from June), and Sir Joseph (from July). He left the D'Oyly Carte for the last time on December 31, 1897.
He went on to produce several pantomimes, the last being Fred Karno's Cinderella at the Alexandra Theatre, Stoke Newington, before his death in 1905 at the age of 38.
---
S Index | "Who Was Who" Homepage
---