THE D'OYLY CARTE OPERA COMPANY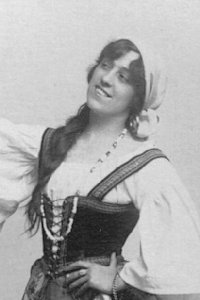 Mabel Sykes in The Gondoliers
Mabel Sykes (1914-16, 1917-18, 1920-27)
[Born 1890]
Soprano Mabel "Bill" Sykes was a chorister with the D'Oyly Carte Repertory Opera Company from July 1914 to December 1916, and from July 1917 to October 1918. Throughout these stints her one named part was Sacharissa in Princess Ida.
After another break in service she joined the D'Oyly Carte "New" Opera Company in July 1920. She had several smaller roles her next four seasons, appearing as Celia in Iolanthe (1920-22, 1923-24); Giulia (1920-21) Casilda (1921-23), and Fiametta (1923-24) in The Gondoliers; Kate in The Pirates of Penzance (1921-23), Peep-Bo in The Mikado (1922-23), and the Plaintiff in Trial by Jury (1923-24). She also substituted for Ethel Maclelland as Josephine in H.M.S. Pinafore briefly in February 1924.
By July 1924, however, she no longer had any named parts. She filled in on occasion as Yum-Yum in The Mikado during the 1924-25 season, but was relegated to chorus duties thereafter. She served with the "New" Company until it was disbanded in June 1927.
---
S Index | "Who Was Who" Homepage
---