THE D'OYLY CARTE OPERA COMPANY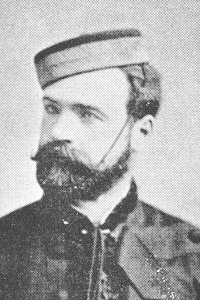 Hugh Talbot as Frederic in The Pirates of Penzance
Hugh Talbot (1879-80)
[Born near Dublin, Ireland c.1845, died Stockton, California 31 Oct 1899]
Born Hugo Talbot Brennan, Hugh Talbot was a choir boy in his youth, then went to Italy for his formal musical education. His stage debut came in Milan in Rigoletto, and he went on to sing for several seasons with Adelina Patti and Christine Nilsson in Russia, France, and Italy for several seasons. He returned to England to sing opera in Italian, a novelty there at the time.
Talbot was chosen to play Ralph Rackstraw for American audiences in the first authentic D'Oyly Carte Pinafore at New York's Fifth Avenue Theatre, December 1, 1879. On December 31 of that year, in the same theatre, he created the role of Frederic in The Pirates of Penzance. Except for a brief detour to Philadelphia (where he played Frederic for the opening of Carte's Second American Pirates Company on February 9), Talbot played Frederic in New York until March 6, 1880, when he left the Company following a blow-up with management.
Later he appeared in Boston with the Blanche Roosevelt English Opera Company in an unsuccessful production of Stephenson & Cellier's The Masque of Pandora (Boston Theatre, January 1881). He then traveled for a short spell with Tagliapietra's Opera Company, before relocating to California.
---
T Index | "Who Was Who" Homepage
---