THE D'OYLY CARTE OPERA COMPANY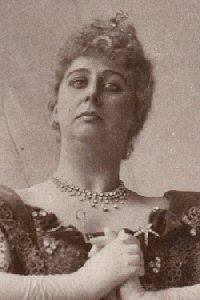 Kate Talby as the Lady Sophy in Utopia, Limited
Kate Talby (1885-87, 1888-91, 1891-97)
[Born c.1859]
Contralto Kate Talby began her D'Oyly Carte career as a chorister and understudy to Elsie Cameron with Carte's First American Mikado Company in New York and Boston, August 1885-May 1886. She filled in for Miss Cameron as Katisha briefly in September 1885. She returned to New York as chorister with Carte's First American Ruddygore Company, February-April 1887.
With Mr. D'Oyly Carte's "C" (Repertory) Opera Company in April 1888 she filled in again for Miss Cameron as Katisha and the Lady Jane in Patience. When D'Oyly Carte Opera Company "B" was revived in January 1889 to play The Yeomen of the Guard, Miss Talby was promoted to principal contralto as Dame Carruthers. She transferred to Company "E" in October 1889, where she toured until December as Dame Carruthers and Katisha.
In January 1890 Miss Talby was in New York as the Duchess of Plaza-Toro in Carte's ill-fated Park Theatre production of The Gondoliers. When the opera was recast and restaged at Palmer's Theatre in February she was one of the few principals to survive. She returned to the British Isles with the "American Company," now Carte's Company "D" in May 1890, then transferred back to Company "C" in July, playing the Duchess all the while. In December 1890, Company "C" added The Mikado to its tour, and in January 1891 took up The Yeomen of the Guard as well. Miss Talby, of course, played Katisha and Dame Carruthers in the new works. She left Company "C" in April 1891.
Kate Talby rejoined the D'Oyly Carte organization in December 1891, replacing Annie Bernard as principal contralto with Carte's "E" Company, appearing as Queen of the Fairies in Iolanthe, Katisha, and the Duchess. In June 1892 The Vicar of Bray replaced The Gondoliers in the "E" Company repertoire, with Miss Talby as the Widow Merton. In March 1893 The Vicar of Bray was dropped. Billee Taylor was added in April (Miss Talby as Eliza Dabsey), then dropped, along with Iolanthe, in May. They were replaced with Haddon Hall (Kate Talby as Lady Vernon). She toured as Lady Vernon and Katisha until December 1, 1893, when Company "E" gave the first provincial production of Utopia Limited with Miss Talby as Lady Sophy.
In March 1894 she returned to New York and Boston as Sophy with Carte's American Utopia Company, then rejoined Company "E" in June after the American run ended, appearing as Sophy and (from September) Little Buttercup in H.M.S. Pinafore.
In December 1894 she transferred to D'Oyly Carte Opera Company "D." From December 1894 to December 1895 she appeared with Company "D" as Sophy, the Marquise in Mirette (December-June), Widow Merton (January-December), Inez de Roxas in The Chieftain (February-August), and Lady Blanche in Princess Ida (September-December). After a few months off, Company "D" resumed touring in March 1896 with The Grand Duke, Kate Talby as the Baroness von Krakenfeldt.
She transferred to the Savoy where she appeared in place of Rosina Brandram as Katisha during a revival of The Mikado (August-September 1896). In September 1896 she resumed touring:this time with Carte's Company "D" as the Baroness and, from October, Lady Sophy. When Company "D" disbanded in November 1896, she transferred to D'Oyly Carte Opera Company "C" touring for a month as Lady Sangazure in The Sorcerer, Buttercup, Ruth in The Pirates of Penzance, Lady Jane, Queen of the Fairies, Lady Blanche, Katisha, Dame Carruthers, and the Duchess. She then left the D'Oyly Carte in December 1896.
Kate Talby later appeared on the London Stage as Lady Hawser in The French Maid (Terry's, 1897), Lady Coodle in A Runaway Girl (Gaiety, 1898-99), and the Farmer's Wife in Gulliver's Travels (Avenue, 1901-02).
She was married to D'Oyly Carte tenor Percy Charles.
---
T Index | "Who Was Who" Homepage
---