THE D'OYLY CARTE OPERA COMPANY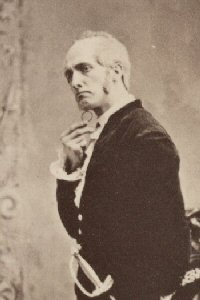 Edward P. Temple as the Earl of Mountararat in Iolanthe
Edward P. Temple (1881, 1887)
[Born New York City c.1861, died Pelham, New York 22 Jun 1921]
As a youth, Edward P. Temple was served as a call boy at Daly's Theatre in his native New York. In August 1881 he toured in Great Britain with Mr. D'Oyly Carte's "D" Company, serving as stage manager for the first provincial production of Patience, and appearing as Mr. Fraser in the Desprez & Solomon companion piece Quite an Adventure. In December, the last month of the tour, he appeared briefly as Reginald Bunthorne in Patience.
Temple then left the D'Oyly Carte organization and returned to America. Although he would be best known as a stage director, he would continue to appear on stage in light opera and musical comedies throughout the 1880s and into the 1890s. His Gilbert & Sullivan roles in America included Bunthorne (Bijou Opera House, New York, June 1882) opposite Lillian Russell, the Earl of Mountararat in Iolanthe with Collier's Standard Opera Company in the first ever production at the Boston Bijou Theatre (December 1882-April 1883), and Florian in Princess Ida at the Fifth Avenue Theatre, New York (briefly in February 1884). The Boston Iolanthe and the New York Princess Ida were sanctioned by D'Oyly Carte.
He returned to the D'Oyly Carte once more, on tour as Robin Oakapple in Ruddygore with Carte's Third American Ruddygore Company in April 1887. By the time the Company reached Rochester, New York, on May 4, Temple was no longer in the cast. His subsequent roles included Jose in Burnand & Sullivan's The Chieftain with Francis Wilson's Company at New York's Abbey Theatre and on tour (September-December 1895).
Mr. Temple worked as one of the general stage directors for the Lee & J. J. Schubert organization at the Hippodrome and elsewhere until 1920.
---
T Index | "Who Was Who" Homepage
---