THE D'OYLY CARTE OPERA COMPANY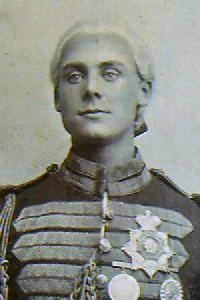 Charles Thorburn as The Prince Regent in "His Excellency"
L. C. Thorburn (1894)
[Born c.1871, died Wandsworth 1946]
Laude Charles Thorburn was a member of the chorus with D'Oyly Carte's American Utopia Limited Company, appearing in New York and Boston between March and June 1894. He later sang the part of Captain Corcoran with D'Oyly Carte Opera Company "A" on tour in the British provinces from June to December of that year. He may also have played Calynx, although programs for this Company credited "S. Wilson" with that part.
("S. Wilson" was a pseudonym for Wilson Sheffied who was playing Calynx and Corcoran in 1894 with Carte's Company "D." D'Oyly Carte touring companies frequently gave Calynx and Captain Corcoran to the same performer, with a pseudonym used for Calynx in most cases. For a full discussion of this confusing practice, see George Low's article "Who played Calynx?" in the Autumn/Winter 1999 issue of Gilbert & Sullivan News.)
After leaving the D'Oyly Carte, and by then known as Charles Thorburn, he toured for a time, appearing with J. W. Boughton's Company as The Prince Regent in Gilbert & Carr's "His Excellency". Thorburn later had one appearance on the London stage--as Richard Coeur de Lion in the Fairy Pantomime Santa Claus at the Lyceum, 26 Dec 1895 to 2 Mar 1896. He eventually went into theatrical management, and was a manager of various kinds for several London shows between 1909 and 1917.
---
T Index | "Who Was Who" Homepage
---