THE D'OYLY CARTE OPERA COMPANY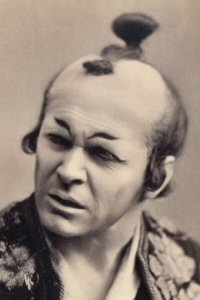 George Thorne as Ko-Ko in The Mikado
George Thorne (1881-83, 1884-89, 1890-97, 1898, 1899)
[Born Surrey 6 Jan 1856, died Edlesborough, Bedfordshire 24 Jul 1922]
George Thorne made his first appearance on the stage at the age of two when he was carried on at the Theatre Royal, Margate, in the burlesque Medea. Early engagements followed with his sister's, Sarah Thorne's, company, (1870-73) John Coleman's stock company in Leeds (1873); the Covent Garden pantomime (1874-75), and at the Corinthian Theatre, Calcutta, (1876) where he reportedly played 104 parts in six months.
His first role with D'Oyly Carte organization came in April 1881 when he was engaged to play Captain Felix Flapper with Carte's Second American Billee Taylor Company on tour. He returned to Britain in August 1881 where he toured as Reginald Bunthorne with Carte's newly-formed "D" Company in the first provincial production of Patience. From January to March 1882 he was with another Carte touring company as Blood-red Bill in Claude Duval. Then he returned to Bunthorne with Carte's No. 1 "Patience" Company, touring from March to December 1882 and again from March to December 1883.
After a half-year's break he rejoined the D'Oyly Carte organization in July 1884, appearing as Sir Joseph Porter in H.M.S. Pinafore, Major General Stanley in The Pirates of Penzance, and Bunthorne with Mr. D'Oyly Carte's "C" (Repertory) Company until December 1884, and again from April-July 1885, adding the Lord Chancellor when Iolanthe joined the repertoire in May.
In July 1885, he transferred to Carte's "D" Company, which performed The Mikado for the first time with Thorne as Ko-Ko. In August he and others left for New York's Fifth Avenue Theatre where they gave The Mikado to American audiences until May 1886.
Returning from America, he joined Carte's "Continental Company" ("G" Company), performing Sir Joseph and Ko-Ko in Liverpool and Manchester before heading for Germany and Austria where he played Ko-Ko for June 1886 to January 1887. He then returned to England to rehearse the new opera, Ruddygore, gave two matinee performances as Robin Oakapple at the Savoy, and then sailed for New York again, playing Robin there from February through April.
From September to December 1887, he toured the British provinces, playing Bunthorne and Ko-Ko with Carte's "D" Company. Beginning in March 1888 he played Sir Joseph, Bunthorne, and Ko-Ko with D'Oyly Carte's "C" (Repertory) Company. In July the Company dropped Pinafore and replaced it with The Pirates of Penzance, Thorne as General Stanley.
On November 1, 1888, "C" Company ceased to be a repertory company and gave the first provincial production of The Yeomen of the Guard. Thorne appeared as Jack Point, and during the run was credited with giving the tragic ending to his character that was later adopted by the Company as a whole. He left the cast in November 1899.
Thorne returned to the D'Oyly Carte in August 1890, touring with D'Oyly Carte Opera Company "D" as Ko-Ko and Jack Point.
In December 1890, he transferred to D'Oyly Carte's Opera Company "C," serving as comic baritone until November 1896. Thorne played John Wellington Wells in The Sorcerer, Sir Joseph in H.M.S. Pinafore, General Stanley in The Pirates of Penzance, Bunthorne in Patience, the Lord Chancellor in Iolanthe, King Gama in Princess Ida, Ko-Ko in The Mikado, Jack Point in Yeomen, and the Duke of Plaza-Toro in The Gondoliers on a regular basis whenever those operas were in the repertory. He also played Bumbo in The Nautch Girl (1892).
From December 1896 to April 1897 he was on the first D'Oyly Carte tour of South Africa, playing his familiar roles, as well as Scaphio in Utopia Limited and Rudolph in The Grand Duke. He had two further engagements with Company "C":as Wells, Sir Joseph, General Stanley, Bunthorne, the Lord Chancellor, Gama, Ko-Ko, Point, and the Duke of Plaza-Toro between February and September 1898, and as Point again in January 1899.
Thorne wrote several pantomimes, some burlesques, two comic operas, and adaptations of several of Charles Dickens' novels for the stage. He also wrote a small volume of reminiscences, "Jots," published by Arrowsmith.
---
T Index | "Who Was Who" Homepage
---