THE D'OYLY CARTE OPERA COMPANY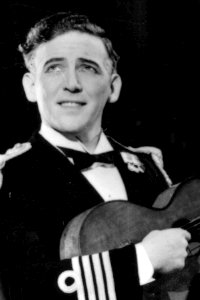 Eric Thornton as Captain Corcoran in H.M.S. Pinafore
Eric Thornton (1950-52)
[Born Darlington 1920]
In 1946, baritone Eric Thornton appeared in musical comedies with an amateur operatic society in his native Darlington. He was engaged by the Royal Opera House, Covent Garden, for chorus and small parts in 1948, then auditioned with the D'Oyly Carte Opera Company.
He joined the D'Oyly Carte in July 1950, appearing as Sergeant Bouncer in Cox and Box that month. For the 1950-51 season he appeared as Bouncer, the Learned Judge in Trial by Jury (shared with Richard Watson), Captain Corcoran in H.M.S. Pinafore, the Earl of Mountararat in Iolanthe, Second Yeoman in The Yeomen of the Guard, and Luiz in The Gondoliers (shared with Henry Goodier and Ivor Emmanuel). He yielded Bouncer and Second Yeoman to newcomers Fisher Morgan and Geoffrey Sanders in April 1951.
Thornton began the 1951-52 season as Corcoran, Mountararat (a role he recorded with the Company that season), the Lieutenant of the Tower in Yeomen, and Luiz. He also filled in on occasion that year for Darrell Fancourt as the Pirate King in The Pirates of Penzance and Sir Roderick Murgatroyd in Ruddigore. In May 1952, however, the Company's corps of baritones was expanded, and Ivor Evans took Mountararat and Jeffrey Skitch assumed Luiz.
Thornton left the D'Oyly Carte in July 1952 and headed for Australia. He later appeared with the J. C. Williamson Company on its 1956-58 Australasian tour as Captain Corcoran, the Pirate King, Mountararat, the Lieutenant, and Giuseppe in The Gondoliers. In 1958 he assumed a leading role in an original Australian musical, Lola Montez, for the Australian Elizabethan Theatre Trust. Eric Thornton was still Down Under in 2001, when he attended the inaugural Marathon Gilbert & Sullivan Singfest in Sydney.
---
T Index | "Who Was Who" Homepage
---