THE D'OYLY CARTE OPERA COMPANY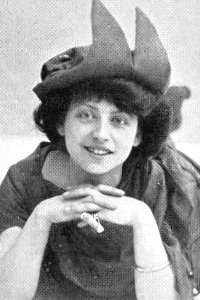 Maude Thornton as Moth in A Princess of Kensington
Maude Thornton (1900-03)
Maude Thornton was in the D'Oyly Carte Opera Company chorus at the Savoy for the first London revival of Patience (November 1900-April 1901), the original production of The Emerald Isle (April-November 1901) and, in all likelihood, for the productions there of Ib and Little Christina, Iolanthe, and Merrie England that followed.
She created the small role of the fairy Moth in A Princess of Kensington at the Savoy (January-May 1903). She also filled in for Constance Drever briefly in the larger role of Peaseblossom. Her sister, Gertrude Thornton, appeared at the Savoy at the same time.
Between 1904 and 1912 she appeared sporadically in London musical and pantomime programs:in the chorus of The Medal and the Minstrel (Lyric, 1904), in the crowd in Court in Trial by Jury (Ellen Terry Jubilee celebration, Drury Lane, 1906), as Susan in Tom Jones (Apollo, 1907), as Peter in The Antelope (Waldorf, 1908), as Gaston in Cinderella (Adelphi, 1908-09), as Marjorie the maid in Jack and the Beanstalk (Drury Lane, 1910-11), as Chrysea in The Arcadians (Shaftesbury, 1911), as Mirabelle in Hop o' My Thumb (Drury Lane, 1911-12), and as Nancy Jones in The Sailor and the Nursemaid (Aldwych, 1912).
She later served as chorus mistress for the 1919-20 production of Kissing Time at the Winter Garden.
---
T Index | "Who Was Who" Homepage
---