THE D'OYLY CARTE OPERA COMPANY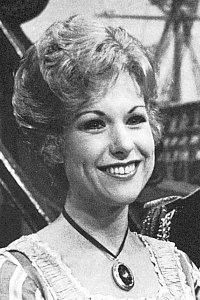 Vivian Tierney as Josephine in H.M.S. Pinafore
Vivian Tierney (1975-79, 1981-82)
[Born Highgate, London]
Soprano Vivian Elizabeth Tierney started singing as a soloist at the age of fourteen. She turned professional at eighteen as vocalist with a dance band in Preston. In September 1975 she joined the D'Oyly Carte Opera Company chorus, going on her first season on occasion as Lady Ella in Patience. During 1976-77 she appeared from time to time as Ella and as Giulia in The Gondoliers.
In July 1977 she assumed Lady Ella as her own, taking over from the departing Glynis Prendergast, and during the 1977-78 season filled in for principal sopranos Barbara Lilley and Julia Goss on occasion as Josephine in H.M.S. Pinafore, Mabel in The Pirates of Penzance, and Princess Ida in Princess Ida.
She began the 1978-79 season as Ella, but later that season assumed Mabel (March 1979) and Josephine (April 1979). She also filled that season as Josephine, Zorah in Ruddigore, Elsie Maynard in The Yeomen of the Guard, and Giulia. She left the D'Oyly Carte in September 1979 at the end of the Australia-New Zealand tour.
In September 1981 she returned to the Company for its last season, appearing as Josephine, Mabel, and, for the first time, Yum-Yum in The Mikado until the Company disbanded in February 1982. She may be heard as a soloist on the Company's "Last Night" recording and seen in a concert video "Gilbert & Sullivan's Greatest Hits" made at Royal Albert Hall in October 1982.
During her time with the Company she met and married baritone Gareth Jones. They both later appeared with the "New D'Oyly Carte Opera Company" for its inaugural season, she as Phyllis in Iolanthe. The marriage ultimately ended in divorce.
Vivian Tierney has gone on to have a highly successful career in grand opera. She appeared with Sadler's Wells Opera, Kent Opera, Opera 80, and in 1986 made her debut at English National Opera in Orpheus in the Underworld. Since then she has appeared regularly with ENO, also with Opera North and at Glyndebourne and Freiburg. She also sang as a soloist in Sullivan's oratorio The Golden Legend with the Colorado Springs Orchestra.
For a detailed account of her grand opera career, see Andrew Clark's article "Vivian Tierney" in the January 1998 issue of Opera.
---
T Index | "Who Was Who" Homepage
---