THE D'OYLY CARTE OPERA COMPANY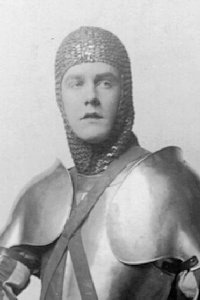 Frank E. Tilton in Princess Ida
Frank E. Tilton (1920-24)
Franklyn E. Tilton joined the D'Oyly Carte Repertory Opera Company chorus in March 1920. He served with the Repertory Company until January 1924 when he transferred to the D'Oyly Carte "New" Opera Company. While with the Repertory Company Tilton appeared for some time as Giorgio in The Gondoliers (1921-23), Go-To in The Mikado (1922-23), filled in on occasion as Bill Bobstay in H.M.S. Pinafore and Pish-Tush in The Mikado during the 1921-22 season, and shared Pish-Tush and Giuseppe in The Gondoliers with Sydney Granville in 1923-24.
In January 1924 Tilton transferred to the D'Oyly Carte "New" Opera Company as principal baritone replacing Henry Millidge as Captain Corcoran in H.M.S. Pinafore, Strephon in Iolanthe, Pish-Tush in The Mikado, and Luiz in The Gondoliers. When the limited "New" Company was revamped in July Tilton's roles were Captain Corcoran, Pish-Tush, Sergeant Bouncer in Cox and Box, Old Adam Goodheart in Ruddigore, and the Lieutenant of the Tower in The Yeomen of the Guard. He left the D'Oyly Carte organization in December 1924. He was married to D'Oyly Carte chorister Marguerite Kynaston.
Tilton's stage career extended until at least 1950. He appeared in London in The Duchess of Dantzig (Daly's, 1932), Sitting Pretty (Princes, 1939), Fun and Games (Princes, 1941-42), Arsenic and Old Lace (Strand and Cambridge, 1942-46), Belinda Fair (Saville, 1949), and Queen Elizabeth Slept Here (Strand, 1949-50).
---
T Index | "Who Was Who" Homepage
---