THE D'OYLY CARTE OPERA COMPANY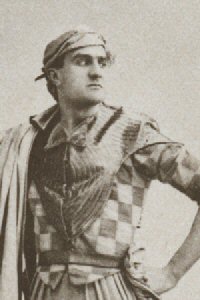 Ernest Torrence as Azuriel in A Princess of Kensington
Ernest Torrence (1901-03)
[Born Edinburgh 26 Jun 1878, died New York City 15 May 1933]
Ernest Torrance-Thomson was educated at Stuttgart and at the Edinburgh Academy. Originally intending to embark on a career as a pianist in London, he won the Westminster Scholarship, but in 1900 he was awarded the Royal Academy of Music medal for operatic singing and shortly thereafter was performing with the D'Oyly Carte.
Ernest Torrence appeared on tour with D'Oyly Carte Opera Company "D" as Sergeant Pincher in The Emerald Isle from September 1901 to March 1902. He was then summoned to the Savoy where he created the parts of Long Tom in Merrie England (Savoy and on tour, April 1902-January 1903) and Azuriel in A Princess of Kensington (Savoy and on tour, January-September 1903).
Along with many of his Savoy colleagues, Torrence next appeared at the Adelphi in The Earl and the Girl (1903-04), and was in concurrent matinee performances of Little Hans Anderson at the same theatre. He subsequently performed at the Lyric in The Talk of the Town (1905), and was in the crowd in Court in Trial by Jury for the Ellen Terry Jubilee celebration at Drury Lane in June 1906.
He did not entirely abandon the piano, however, serving as pianist for the Court Theatre pantomime Little Boy Bluebeard in 1910-11. Shortly before World War I he made his way to New York to play in The Only Girl. His appearance on Broadway in The Night Boat brought him to the attention of Hollywood, where he would make his greatest mark.
He made his film debut in 1919 in the silent film A Dangerous Affair. The Times (London) would later write "There was certainly no man more popular with his British and American colleagues than Mr. Torrence, who revelled in villainy on the screen but was kindness personified in private life." Among his fifty films were The Hunchback of Notre Dame (1923), Peter Pan (as Captain Hook, 1924), King of Kings (1927), The Bridge of San Luis Rey (1929), Untamed (1929), Call of the Flesh (1930), Fighting Caravans (1931), The Great Lover (1931), Sporting Blood (1931), Cuban Love Song (1931), New Adventures of Get Rich Quick Wallingford (1931), Sherlock Holmes (as Professor Moriarty, 1932), and I Cover the Waterfront (1933).
Ernest Torrence died from complications following emergency surgery at the age of 54. He had suffered an attack of gall stones while at sea, enroute to Europe, and was rushed to a hospital in New York.
---
T Index | "Who Was Who" Homepage
---