THE D'OYLY CARTE OPERA COMPANY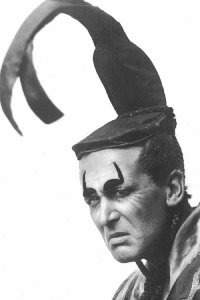 Leicester Tunks as the Mikado of Japan in The Mikado
Leicester Tunks (1904-16)
[Born Glasgow]
Leicester Tunks was a principal baritone with the D'Oyly Carte organization from December 1904 to December 1916. His first recorded part with the D'Oyly Carte Repertory Opera Company was Captain Corcoran in H.M.S. Pinafore in December 1904. From January 1905 until June 1907 Tunks' roles with the Company were Captain Corcoran in Pinafore, Samuel in The Pirates of Penzance, Colonel Calverley in Patience, the Earl of Mountararat in Iolanthe, Florian in Princess Ida, Pish-Tush in The Mikado, the Lieutenant of the Tower in The Yeomen of the Guard, and Luiz in The Gondoliers.
In July 1907, following the departure of Albert Kavanagh, Tunks swapped Samuel for the Pirate King, Pish-Tush for the Mikado of Japan, and Luiz for Giuseppe.
In April 1908 he reported to the Savoy for the start of the Second London Repertory season. There he appeared as Pish-Tush in The Mikado and Bill Bobstay in H.M.S. Pinafore until October 1908 when he resumed touring with the Repertory Company. He also filled in briefly as the Mikado for Henry Lytton in August 1908.
Upon his return to the Repertory Company his roles were Captain Corcoran, the Pirate King, Archibald Grosvenor in Patience, Mountararat, Florian, the Mikado, Sergeant Meryll in Yeomen, and Giuseppe. In March 1914, upon the departure of Sydney Granville and the arrival of Frederick Hobbs, Tunks swapped Mountararat for Strephon in Iolanthe. He would yield Strephon to Granville upon the latter's return in November 1915. Tunks continued his other roles until December 1916 when he left to join the military.
It is reported that after the war he ran a poultry farm in the south of England.
---
T Index | "Who Was Who" Homepage
---