THE D'OYLY CARTE OPERA COMPANY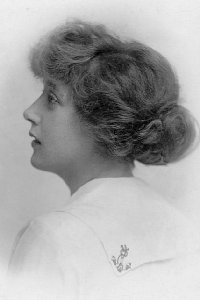 Kitty Twinn
Kitty Twinn (1908-24, 1924-25)
[Born Nottingham 1884]
Eva Kate Twinn served as a chorister with the D'Oyly Carte Repertory Opera Company from October 1908 to August 1919 and the D'Oyly Carte "New" Opera Company from September 1919 to January 1924 and again from July 1924 to June 1925.
Her named parts were invariably ones with little or no solo singing--Isabel in The Pirates of Penzance (1912-19 and 1921-23), First Bridesmaid in Trial by Jury (1914-15, 1916-19, and 1921-24), Fleta in Iolanthe (1914-24), and Giulia in The Gondoliers (1921-22).
She was married to D'Oyly Carte baritone Frank Steward.
---
T Index | "Who Was Who" Homepage
---