THE D'OYLY CARTE OPERA COMPANY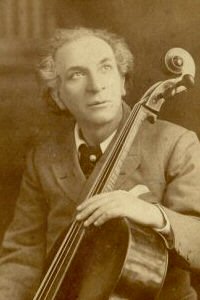 Auguste Van Biene
Auguste Van Biene (m.d., 1878-79)
[Born Holland 16 May 1850, died Brighton, Sussex 23 Jan 1913]
Auguste Van Biene came to London as a child and was for many years engaged as a cello player. He was hired by the touring Comedy Opera Company, Ltd. and in November 1878 succeeded Hamilton Clarke as musical director of The Sorcerer and H.M.S. Pinafore. He also conducted H.M.S. Pinafore on tour with the Comedy Opera Company in April and May 1879.
When the breakup occurred between D'Oyly Carte and the directors of the Comedy Opera Company at the end of July 1879, the directors decided to stage their own rival production of H.M.S. Pinafore in London at the Imperial Theatre, and brought in Van Biene to conduct. The rival Pinafore ran a month at the Imperial before transferring to the Royal Olympic, ultimately closing in September for lack of public support. Van Biene was musical director for the duration.
He subsequently entered theatrical management, touring several musical comedies including Falka, Pepita, Faust Up-to-Date, Ruy Blas, Carmen Up-to-Data, and Blue-Eyed Susan. He then hit upon The Broken Melody, first produced at the Prince of Wales's Theatre in 1892, starring himself in the role of the disabled cellist. The piece proved irresistible to the public, and Van Biene ended up playing the part over 6,000 times. It was constantly in demand in theatres and music halls throughout Britain. He also appeared in the work in America, Australia, and South Africa.
Van Biene continued to perform for the rest of his life. In January 1913 he had been sidelined owing to ill-health but traveled to the Brighton Hippodrome to fulfill a January 23 engagement in The Master Musician. Midway through his performance, conducted by his son, Van Biene fell back in his chair. The curtain was lowered and he was pronounced dead on the scene.
---
U-V Index | "Who Was Who" Homepage
---