THE D'OYLY CARTE OPERA COMPANY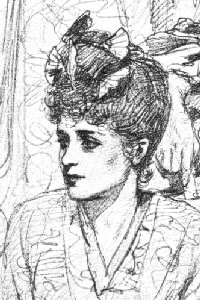 Jessie Vince in The Mikado
Jessie Vince (1887-1905)
[Born Sevenoaks, Kent c.1863]
Jessie Ann Vince began her D'Oyly Carte and stage career as a chorister with a Carte Repertory Company that toured Germany and Austria between April 1887 to February 1888. She joined the Company in Hamburg and from November 1887 to February 1888 took the small role of the Lady Saphir in Patience.
From February to October 1888 she toured the British Isles with Mr. D'Oyly Carte's "C" (Repertory) Company, appearing as Saphir and Isabel in The Pirates of Penzance. On November 1, 1888, "C" Company gave up its repertoire and began the first provincial production of The Yeomen of the Guard. Jessie Vince had no role in Yeomen, nor, at first, in The Gondoliers when it was launched in March 1890. She was probably in the chorus throughout this period, however, and she was certainly in the chorus when the Company played The Mikado at Balmoral Castle on September 4, 1891. By November 1891 she assumed the part of Fiametta in The Gondoliers.
She played Fiametta throughout 1892, making the occasional substitution as Peep-Bo in The Mikado in January of that year. Between August 1892 and November 1896, however, she took a number of named parts:Isabel in The Pirates of Penzance (1893-96); Saphir in Patience (1892-96); Iolanthe (1892), Celia (1893), and Leila (1896) in Iolanthe; Ada in Princess Ida (1895-96); Peep-Bo in The Mikado (1892-96); and Fiametta in The Gondoliers (1892-96).
Miss Vince then went abroad again, appearing on Carte's December 1896-June 1897 tour of South Africa. Details are sketchy, bit we know she appeared as Isabel in The Pirates of Penzance and Vittoria in The Gondoliers. It seems likely she had small named parts in Patience and Iolanthe as well. When the company returned in July 1897 as Company "B" she appeared in Southport as Isabel and Fiametta.
Miss Vince then rejoined Company "C" in August 1897. Over the next seven years she appeared as Isabel (1897-98, 1902) and Kate (1899-1901) in Pirates; Saphir (1897-1904) and Angela (on occasion, 1900) in Patience; Fleta in Iolanthe (1897-1904); Ada (1898-99), Sacharissa (1899), Chloe (1900-04), and Melissa (on occasion, 1900) in Princess Ida; Peep-Bo (1897-1902, and on occasion in 1903) and Pitti-Sing (on occasion, 1900) in The Mikado, Fiametta (1897-1901), Giulia (1901-02), and Tessa (on occasion, 1899-1900) in The Gondoliers; Melane (1897-1900) and Princesses Nekeya (on occasion, 1898) and Kalyba (1899) in Utopia Limited; and "Honey-of-Life" in The Rose of Persia (1900-01).
In June 1904 Miss Vince gave up her named parts. But in October 1905 her name returned briefly to the programs of what was by then known as the D'Oyly Carte Principal Repertory Opera Company--as Saphir, Fleta, Peep-Bo, and Vittoria.
Jessie Vince was married to D'Oyly Carte tenor, later stage manager, R. A. Swinhoe. Mrs. Swinhoe lived well into her 80s and perhaps beyond, sharing memories of her D'Oyly Carte days with Gilbert & Sullivan biographer Leslie Baily in 1947 and the Bristol Evening Post in 1953. She was a member of the Bristol Branch of the Gilbert & Sullivan Society at the time.
---
U-V Index | "Who Was Who" Homepage
---