THE D'OYLY CARTE OPERA COMPANY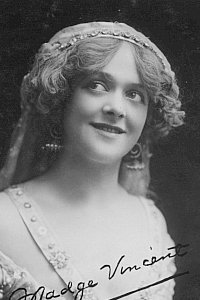 Madge Vincent in Babes in the Wood
Madge Vincent (1898-1900)
[Born Norfolk 1884]
Madge Vincent was a mere fourteen years old when she joined her older sister, Ruth, with the D'Oyly Carte Opera Company at the Savoy. She served in the chorus for The Beauty Stone (May-July 1898), The Gondoliers (July-September 1898), Trial by Jury and The Sorcerer (September-December 1898), The Lucky Star (January-May 1899), and Trial by Jury and H.M.S. Pinafore (June-November 1899). She then toured the provinces with an unidentified D'Oyly Carte company before leaving the D'Oyly Carte Opera Company organization the following year.
She later appeared at Daly's as Li Kiang and then Shuey Pin Sing in San Toy beginning in September 1900. Her subsequent London roles were a bridesmaid and Nancy Staunton in The Toreador (Gaiety, 1901-02), the Girl in The Wicked Uncle (Avenue, 1902), Hon. Bobbie Windsor in Three Little Maids (Apollo and Prince of Wales's, 1902-03), Sarah Sevenoaks in The Medal and the Maid (Lyric, 1903), Sophie in Veronique (Apollo, 1904-05), Natis in Amäsis (New and Criterion, 1906-07), and Maid Marian in the pantomime Babes in the Wood (Drury Lane, 1907-08). She also toured America as Sophie in Veronique in 1905-06.
Madge Vincent spent the years from 1908 to 1921 on tour in musical comedy (including visits to the Far East and South America), pantomime, and variety. Her husband, tenor Harry Frankiss, appeared with the D'Oyly Carte at the Savoy in the late 1890s.
---
U-V Index | "Who Was Who" Homepage
---