THE D'OYLY CARTE OPERA COMPANY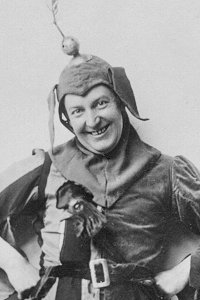 Charles R. Walenn as Jack Point in The Yeomen of the Guard
Charles R. Walenn (1887-1902, 1903, 1906-07, 1908-09)
[Born Islington, London 1868, died 30 May 1948]
Charles R. Walenn toured the European continent as a chorister and understudy for all or part of D'Oyly Carte's Second Continental tour (April 1887 to February 1888). He first appeared in a D'Oyly Carte program as Major Murgatroyd in Patience in June 1888 in the British provinces with Mr. D'Oyly Carte's "C" (Repertory) Opera Company. He filled in as the Major while Frank Holt substituted for George Thorne as Reginald Bunthorne. Walenn presumably remained in the "C" Company chorus for the next few years. In January and May 1891 he made brief appearances as Giuseppe in The Gondoliers, then from May to August of that year took over the parts of Pish-Tush in The Mikado and Antonio in Gondoliers.
In September 1891 Walenn transferred to D'Oyly Carte Opera Company "B," replacing Cairns James as principal comic baritone. He remained with Company "B" until December 1896, during which time he appeared as Jack Point in The Yeomen of the Guard (September 1891-December 1892, July-December 1896), the Duke of Plaza-Toro in The Gondoliers (September 1891-June 1892, September 1895-April 1896), Bumbo in The Nautch Girl (December 1891-June 1892), Bedford Rowe in The Vicar of Bray (July 1892-April 1893, January-April 1896), the McCrankie in Haddon Hall (November 1892-February 1894), Reginald Bunthorne in Patience (July 1893-February 1894, October 1894-February 1895), Scaphio in Utopia Limited (February 1894-February 1895), Dick Deadeye (January-July 1895) and Sir Joseph Porter (July 1895-February 1896) in H.M.S. Pinafore, Peter Grigg in The Chieftain (February-August 1895), Pish-Tush (April 1895-July 1896) and Ko-Ko (July-December 1896) in The Mikado, Mr. Cox in Cox and Box (May 1895-March 1896), and Grand Duke Rudolph in The Grand Duke (April-December 1896).
Walenn transferred to D'Oyly Carte Opera Company "E" in December 1896, and for approximately two months appeared as Ko-Ko, the Duke in Gondoliers, and Rudolph. In February 1897 he returned to Company "B" (Company "C" from March 1), appearing as the Lord Chancellor in Iolanthe, Ko-Ko, and Jack Point. In May 1897 he added King Ferdinand in His Majesty and switched from the Lord Chancellor to the Earl of Mountararat in Iolanthe and from Ko-Ko to the title role in The Mikado. He left Company "C" in July 1897, and joined a new D'Oyly Carte Opera Company "B" (recently returned from South Africa) the following month.
With Company "B" from August to December 1897 Walenn appeared as the Lord Chancellor, Ko-Ko, Jack Point, King Ferdinand (May to July) and, later, Boodel (August and September) in His Majesty, and John Wellington Wells in The Sorcerer (from October). Walenn returned to D'Oyly Carte Opera Company "E" in December 1897.
Over the next four plus years (December 1897-May 1902), Walenn appeared with Company "E" as Sir Joseph (December 1897-February 1900), Ko-Ko (December 1897-February 1900), J. W. Wells (January-June 1898, January-April 1899, January-February 1900), Jack Point (January 1898-February 1900), Prince Paul in The Grand Duchess of Gerolstein (June 1898-April 1899), King Ouf in The Lucky Star (February-November 1899), the McCrankie (October-November 1899), the Usher in Trial by Jury (November-December 1899), Hassan in The Rose of Persia (February 1900-June 1901), Bunthorne in Patience (December 1900-June 1901), and Pat Murphy (July 1901-February 1902) and Professor Bunn (February-May 1902) in The Emerald Isle. Company "E" then shut down for better than nine months. It was revived as a repertory company on March 9, 1903, and toured until December 12 of that year when it was disbanded for the last time. Walenn was principal comic baritone for the duration of the tour, appearing in his familiar roles of Sir Joseph, Ko-Ko, Jack Point, and (from September) the Duke in Gondoliers. He also took the part of Mons. Sarsenet in the Bridgeman & Cellier curtain raiser Bob that played with H.M.S. Pinafore.
After Company "E" closed Walenn left the D'Oyly Carte organzation for nearly three years. During his absence he made two appearances in comic opera on the London Stage:as Boissy in the Amorelle (Comedy, February-March 1904), and as Balthazar in La Poupee (Prince of Wales's, April-June 1904).
Walenn had two further engagements with the touring D'Oyly Carte Principal Repertory Opera Company. From November 1906 to October 1907 and from October 1908 to March 1909, while C. H. Workman was performing at the Savoy for the First and Second London Repertory Seasons, Walenn took his place as principal comic baritone on tour. Both times he appeared as the Learned Judge in Trial by Jury, Sir Joseph, General Stanley in The Pirates of Penzance, Bunthorne, the Lord Chancellor, King Gama in Princess Ida, Ko-Ko, Jack Point, and the Duke in Gondoliers. Workman reclaimed his roles after the First London season and Walenn was replaced on tour by Henry A. Lytton and left the D'Oyly Carte organization for good after the second.
Walenn's engagements in London were infrequent thereafter. He appeared in The Chocolate Soldier at the Lyric in 1911 (ironically, replacing C. H. Workman), and in 1917 gave nine performances in the title role in The Private Secretary at the Savoy (a theatre he could only attend with a ticket during his D'Oyly Carte days). In between he made his first Gilbert & Sullivan tour with the J. C. Williamson organization in Australia appearing in his familiar roles in Pinafore, Pirates, Patience, Iolanthe, Mikado, Yeomen, and Gondoliers between June and December 1914.
In 1920-21 he made another Australian tour in most of the same operas (only Yeomen is unaccounted for). He later returned to London for another go at The Private Secretary (Playhouse, 1923-24). In 1926-28 he made another Australian G&S tour with the Williamson Company. This time he appeared in all the operas from 1914, plus Trial by Jury, Princess Ida, and Ruddigore (as Robin Oakapple). The August 1927 production of Ruddigore at His Majesty's Theatre, Sydney, was the first time the supernatural opera had been presented professionally in Australia.
Walenn returned to London for yet a third and fourth engagement as Rev. Spaulding in The Private Secretary (Criterion, 1929-30 and Apollo, 1930-31). His last appearance on the London Stage was as Cyrus Wykoff in the comedy Daddy Long Legs (Victoria Palace, 1933-34).
---
W Index | "Who Was Who" Homepage
---