THE D'OYLY CARTE OPERA COMPANY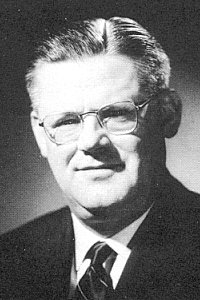 James Walker
James Walker (a.m.d., 1961-68, m.d., 1968-71)
[Born Ashfield New South Wales, Australia, 9 Apr 1913, died Surrey 20 Aug 1988]
Educated in Sydney at the Conservatory of Music, James Walker went on to the Royal Academy of Music in London. He began his professional career in British film studios, and also worked as assistant to musical director Ernest Irving at Ealing Studios. In that capacity he supervised recordings and conducted, working with leading British composers including Ralph Vaughan-Williams.
Walker made his London Stage debut as conductor of the fairy pantomime The Glass Slipper (St. James's Theatre, 1945-46). From 1947-54 he was musical director for the International Ballet, and before joining the D'Oyly Carte Opera Company he was recording supervisor for Decca Records.
He joined the D'Oyly Carte Opera Company as associate musical director in April 1961, and in February 1968 succeeded Isidore Godfrey as musical director. He left the D'Oyly Carte and rejoined Decca in March 1971. During his tenure with the Company he conducted the 1971 Phase4 recording of H.M.S. Pinafore, as well as an abridged Ruddigore for the 1967 Halas & Batchelor cartoon, an album of choruses and an album of excerpts from the operas.
He also conducted a set of abridged recordings of The Mikado, The Pirates of Penzance, H.M.S. Pinafore, Iolanthe, The Gondoliers, and Patience for Reader's Digest in 1963. These recordings feature several D'Oyly Carte artists in unfamiliar roles due to contractual constraints.
---
W Index | "Who Was Who" Homepage
---