THE D'OYLY CARTE OPERA COMPANY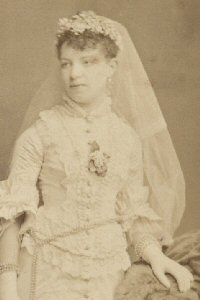 Giulia Warwick as Aline in The Sorcerer
Giulia Warwick (1877-78)
[Born London 15 Jan 1857, died London 13 Jul 1904]
Giulia Warwick, real name Julia Ehrenberg, was heard first as a concert pianist at Beethoven Rooms, London, in 1869 at the age of twelve. It was eventuallydiscovered that she had a fine soprano voice and, after some vocal studies, she joined the Carl Rosa Opera Company in 1876 and made her operatic debut at the Crystal Palace as Zerlina in Don Giovanni. After further appearances under Rosa management in The Bohemian Girl and Fidelio, she devoted herself for a short time to oratorio.
She was next engaged by D'Oyly Carte's Comedy-Opera Company to create the role of Constance Partlett in The Sorcerer and play Dora Leslie in Arthur Cecil and Alfred Cellier's companion piece Dora's Dream, November 17, 1877, at the Opera Comique. In January 1878 Miss Warwick went on for Alice May in the leading soprano role of Aline in The Sorcerer, ultimately taking over the part in February and playing it for the remainder of the run:until May 24, 1878. Miss Warwick also created the part of Lady Viola in James Albery and Cellier's The Spectre Knight, which replaced Dora's Dream as the curtain raiser in February 9, 1878, but soon gave up that part to focus on Aline.
After The Sorcerer closed Miss Warwick rejoined the Carl Rosa Company, singing with them in London and the provinces until 1882. She was later engaged by Alexander Henderson for the title role in Planquette's version of Nell Gwynne (Avenue, 1884), and followed that by achieving a great success in Falka, an opera she played for two-and-a-half years throughout England. She subsequently appeared with other opera companies, including one of her own, until 1896 when she became a professor of singing at the Guildhall School of Music. She resigned that position in 1902 to found her own vocal school.
---
W Index | "Who Was Who" Homepage
---