THE D'OYLY CARTE OPERA COMPANY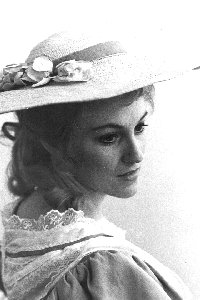 Jill Washington as Rose Maybud in Ruddigore
Jill Washington (1980-82)
[Born Stoke-on-Trent, Staffordshire]
Jill Washington spent six years at the Royal Academy of Music, completing the performer's and advanced courses. She joined the D'Oyly Carte Opera Company as principal soprano in September 1980 and during the 1980-81 season appeared as Mabel in The Pirates of Penzance, Yum-Yum in The Mikado, and Rose Maybud in Ruddigore. In the Company's last season (September 1981-February 1982), however, she played Yum-Yum and Rose in the autumn, and thereafter, played only Rose. Her lone D'Oyly Carte recording was the Company's "last night" performance on February 27, 1982, in which she sang Patience's song "I Cannot Tell What This Love May Be."
After further vocal training at the National Opera Studio, she sang with Dublin Grand Opera, the London University Opera, and the New Sadler's Wells Opera (including a performance as Peep-Bo in The Mikado).
She also sang with Opera 80 and Welsh National Opera. She appeared in The King And I at Ipswich and Hornchurch, pantomime at the Theatre Royal, Plymouth, and The Mikado (again) at Perth Repertory Theatre. Her broadcasting credits include Thames Television's "Top C's And Tiaras" and Radio 2's "Friday Night Is Music Night."
Miss Washingon has nearly made a career out of the part of Christine in The Phantom Of The Opera. She had three long running engagements in the role before assuming Christine at Her Majesty's Theatre, London. As a result, it's claimed that she's played the role of Christine more than any other actress in the world.
---
W Index | "Who Was Who" Homepage
---